"Give me wisdom and knowledge, that I may lead this people, for who is able to govern this great people of yours?"  2 Chronicles 1:10
RISE is a teen leadership program serving 6th, 7th and 8th grade students in the City of Chester.  RISE develops leadership through fostering personal Responsibility and Integrity, providing opportunities for Service, and instilling an expectation of Excellence in its participants; of themselves and of their community.
RISE expects its participants to become high-achieving individuals, positive influencers in their peer groups, and righteous leaders in their schools and neighborhoods as they model personal responsibility, integrity & excellence, and also demonstrate leadership through acts of service in their community.
RISE is designed to build vital skills that will help the participants RISE to their potential and understand their purpose in life.  It is a year-round program with workshops, weekly meetings, service projects and a week-long residential camp experience.  It is designed to be both developmentally and culturally appropriate and was created with the psychological concepts of self-efficacy and positivity in mind.
The first class of RISE is well underway. Those students are current Chester 7th and 8th graders. They completed their evaluation period in the Spring of 2014, spent a week at RISE Camp this past summer and completed their first semester of RISE by meeting weekly and studying the topic of "My Voice." They are active in their second semester right now and are studying, "My Part" to discover their own strengths and weaknesses and where they fit into the larger chorus.
The second class of RISE is just getting ready to begin. Current Chester 6th and 7th graders are invited to attend the RISE Parent Orientation on Tuesday, January 13th at Chester Charter School for the Arts in Aston at 6:00pm. Between January 2015 and August 2015, the RISE program will have 8 offerings, one each month beginning with the Parent/Student Orientation.  At each monthly event the children will have the opportunity to evaluate the leadership program to see if they are interested in commiting to it and the Staff will be evaluating each child for leadership potential. In June every candidate will be personally interviewed (with their parent present) to determine if this program is a good fit for that specific child. If so, the child becomes a RISE member and is invited to RISE Camp in the summer of 2015 and will begin Year One of RISE in September 2015.  
January 2014:
Parent/Student Orientation – completed
FREE and all attenders receive a $10 credit towards RISE Camp.
February 2014:
RISE Summit - completed
To read about the RISE Summit, please click here.
March 2014:
Chester Waterfront CleanUp - completed
To read about the Chester Waterfront CleanUp, please click here.
April 2014: 
Ice Cream Social - completed
To read about the April Ice Cream Social, please click here.
May 2014:
RISE Spring Retreat – completed
To read about the May Retreat, please click here.
June 2014:
First Quarterly Review - completed
All 58 remaining candidates were interviewed and the final 44 RISE students were selected.
July 2014:
RISE Camp - completed
To read about RISE Camp, please click here.
To see the RISE Camp video, please click here.
September 2014:
Weekly meetings began in September.  To read about the RISE Fall 2014 Meetings, please click here.
January 2015:
RISE Summit is on January 31st from 1pm – 8:30pm. All students must be registered. Registration forms are below. Completed forms can be mailed to Karen Hicks at 914 Kenmara Drive, West Chester, PA 19380 or emailed to Karen@AndrewLHicksJrFoundation.org. $10 Registration fee can be paid the day of the event. All interested students and parents MUST have attended the Student/Parent Orientation on 1/13 or MUST attend the Student/Parent Orientation on 1/31 at noon, just before the Summit. To find out more about the Summit, please click here.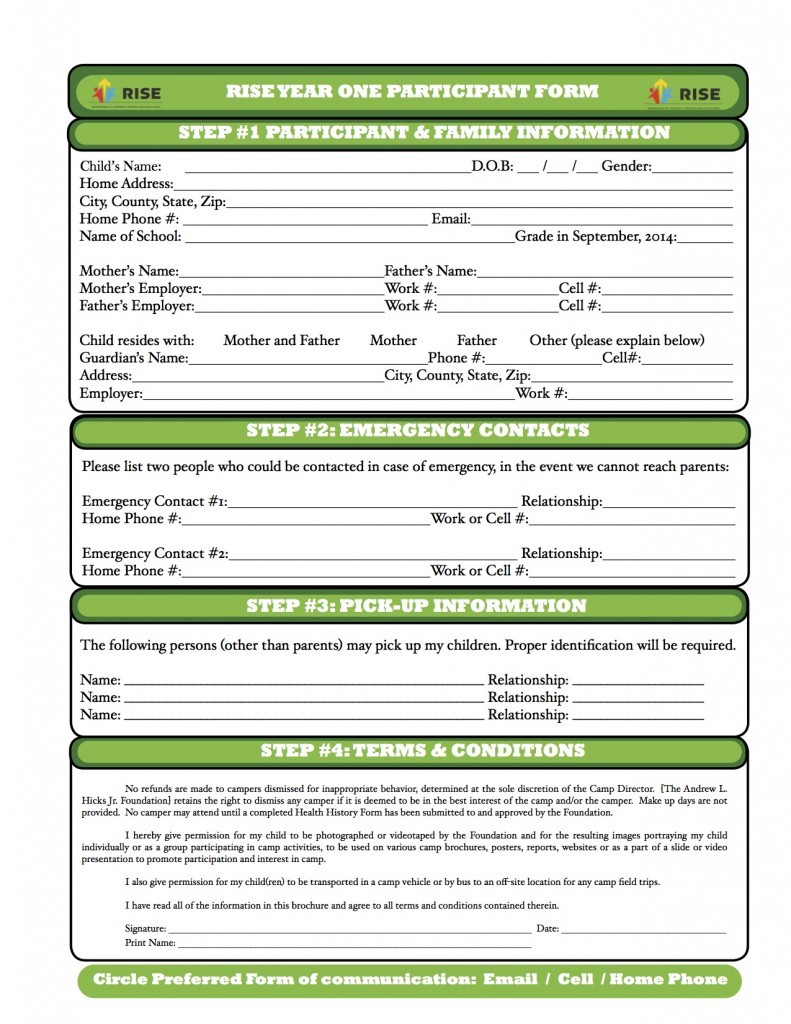 To see a copy of the Power Point presentation which was given at the Orientation meeting on January 9, 2014, please click here.
Questions about RISE can be directed to Karen Hicks at 484-390-0689, or you can email Karen at Karen@AndrewLHicksJrFoundation.org.