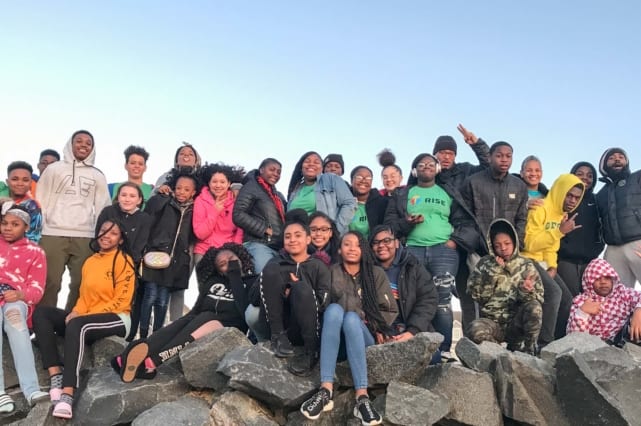 RISE Retreat 2019
RISE enjoyed a Spring Retreat weekend at Harvey Cedars Bible Camp, NJ. Built on a small island, the camp is surrounded by the beach along one side and the bay on the other. It is easy to feel relaxed, and open new experiences, in this picturesque location. This weekend was focused on both self-reflection and solidarity.
We started with a few name games and team building activities, to help students from different RISE years know each other better. Students shared, listened, and found similarities that bond them. Then RISE watched a documentary about three NYC teens from challenging backgrounds, who persisted to beat the odds and become the first in their family to attend college. "Personal Statement" follows these three students as they apply to college and coach their peers to do the same, as trained college counselors. In schools where guidance counselors are few- ambitious teens don't just advocate for change, they create it.
RISE students discussed the documentary and found that the NYC students display many characteristics that RISErs are also cultivating through our program: "persistence, perseverance, a never-give up attitude, staying focused on goals, having a strategy, believe in yourself, surround yourself with like-minded peers," and more! RISErs were given an important assignment- "Take time to reflect on personal beliefs, struggles, victories, lessons learned and write your own Personal Statement. Tell your story on paper, then share with your peers." This was a powerful activity for both self-reflection and fellowship.
Students played more leadership and problem solving games, before swimming in the indoor pool and relaxing in the Jacuzzi! After dinner and watching the sunset on the beach, we had Smore's and a PJ Dance Party with DJ Phiness (aka- Ron Lee).
Sunday started with an early morning yoga session, with Gina Taaffe from YogaFaith. We found out just how inflexible RISErs are! It was fun to try something new, and wake up with a good stretch. After breakfast, we had a special ceremony matching RISE Sisters and RISE Brothers. Instructed, "As Brothers and Sisters, you will demonstrate Responsibility, Integrity, Service and Excellence to each other. You are being matched by the RISE teachers because of your experience in the program, your personal growth, and readiness for more responsibility. You are all still growing in your role as a RISEr and we hope that you grow together, connecting through RISE fellowship." Matches pinned each other with a ceremonial RISE pin, to signify their bond as Brothers and Sisters.
It was a busy weekend full of games, personal growth, and RISE fellowship.
Special Thanks:
Gina Traaffe and niece, Chelsea- YogaFaith
Harvey Cedars Bible Camp
Krapf Buses
Ron Lee- DJ Phiness
Bob and Kim DiGiacomo
---