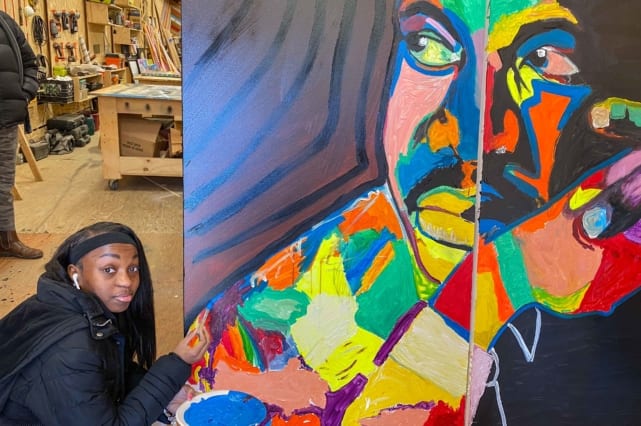 RISE Serves on MLK Service Day
Our RISE program participated in Martin Luther King, Jr. Day of Service, in a variety of ways. The RISE 17 students (9th grade) designed their own service project: a Random Act of Kindness chain. It started with passing out cheerful lollipop flowers to event participants. The flower had a note encouraging them to "Pass it on!" and continue a chain of good deeds and acts of kindness throughout the day. Students gave participants a list of ideas for how to pass it on, such as: say hello to 5 people at the event, put money in someone's parking meter, give someone a helping hand, give compliments to 5 people, etc. When guests completed their Random Act of Kindness, they returned to get their photo taken.
All other RISE students helped run activities for event guests, such as: hosting the snack stand with coffee, tea and pastries, Martin Luther King, Jr. Lingo Bingo game and mural painting with Chester Made. Students also decorated linen "care bags" with encouraging words and decorations, to be stuffed with items for the homeless, and sewed dresses out of pillowcases for girls in Africa.
It was a cold and windy day, but students put their best foot forward to serve and connect with their community in honor of Dr. King's legacy.
---