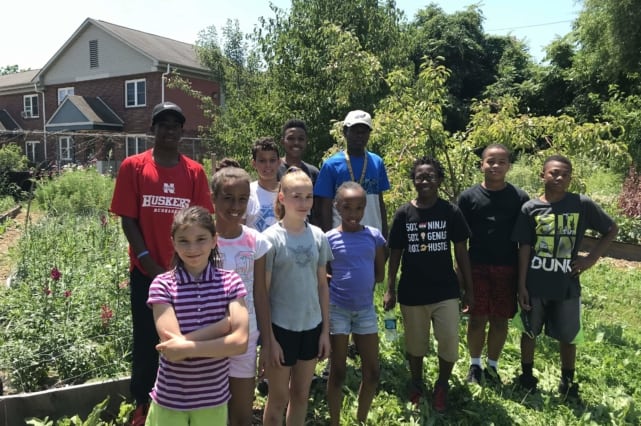 RISE Service Days
Wednesday July 11, 2018
Fifteen RISE students have completed multiple days of service, at Ruth Bennett Community Farm, this summer.   The group finished paving garden paths with tons of wood chips, created terrace farming beds up the back hillside, filled pots with seedlings, weeded raised beds, and beautified the property.  They also made new friends amongst the 4 different RISE years, and found a few garden critters. The RISE students worked hard in the summer heat. We are proud of them, and hope they are proud of themselves, for sticking with this challenging service assignment. The group hopes to return later this year, and watch their urban garden thrive throughout the seasons.
---
Wednesday June 20, 2018
On Wednesday, June 20 twelve RISE students went to Ruth Bennett Community Farm for a day of "Summer Service".  With help from a few Warrior Guide siblings, the group spent the day moving a giant pile of wood chips, to cover grassy paths between garden beds on the farm. The wood chips will keep the grass from growing in narrow places that are hard to mow, and keep swampy areas dry.
Everyone worked incredibly hard in the hot sun, with lots of cold water breaks! They were also treated to pizza for lunch, and a watermelon snack. The RISE students were so happy they could help Farm Manager, Natania Schaumburg, with her ever-expanding community garden in the heart of Chester and look forward to coming back to help with more projects on the farm!
---