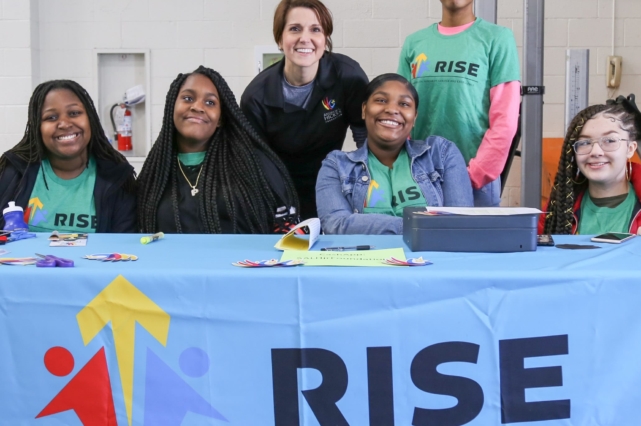 Hoop-A-Thon Tournament 2019
RISE 15 & 16 hosted the 2nd Annual Hoop-A-Thon on Saturday, March 9th at Widener University Field House. Hoop-A-Thon is a Basketball Tournament Fundraiser organized and operated by the students as part of their "Community" year in RISE. Led by Small Group Leaders – Mika Reed and Michael Dixon, students spent 2 units of study (12 weeks) learning and applying the basics of fundraising and event planning, hoping to earn $1,000 toward their Spring Retreat.
Students split into three groups:
Planning – event location, schedule, number of players needed, concessions, entertainment, vendors.
Marketing & Communication – advertising strategies for print and social media, writing a press release, recruiting players to pre-register, inviting spectators.
Event Day – event logistics, set up, communicating with partners, running tournament bracket, clean up.
Students designed their own custom water bottle, as an event give-away to thank players for participating. Trophies were also made for the tournament winners, and gold medals for the runners-up.
The tournament began with a round robin in the morning, to seed the final bracket in the afternoon. Basketball skill contests were run at half-time, with Wawa and Chick-Fil-a gift cards as prizes. It was a fun day of competitive basketball, entertainment, and hard work by the RISE team. We even featured briefly on the Channel 10 News at 6:00!
Congratulations to Hoop-A-Thon Tournament Winners- Dayon Belgrave, Daron Belgrave, Devon Neal, and Tazuan Thomas! They played hard all day to grab the title.
And congratulations to the RISE students for raising $1,032 from the tournament!
Special Thanks to these Partners:
Brent Jacquette: Widener University Men's Soccer
Mitch Thomas & Emily Ashworth: Push the Rock
Ron Lee: DJ Phiness Entertainment
Bryant Wilson & Vern Lassiter: Drive with Purpose
Qwiana Hill:Certified Nurse Volunteer
Monet Clark-Brown: Specialty Baked Goods
---