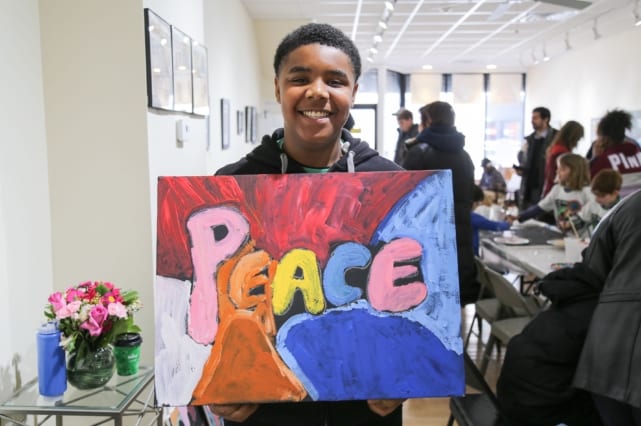 RISE MLK Day of Service
The below story was written by Allie Stein.
---
While other students slept in and spent their day off from school relaxing, 30 RISE students were up early to volunteer in their city's Martin Luther King Day of Service.
The 2019 Day of Service marked the first year that RISE students partnered with the Martin Luther King Commemorative Committee for Chester and Vicinity.
The Martin Luther King Commemorative event organizer, Twyla Simpkins, has been involved with the Committee for eight years now and she was thrilled with this year's event and the participation from the RISE students.
"We achieved exposure and unity," Simpkins said.  "People came from politicians and city officials to everyday community people to various youth groups.  The day just afforded a variety of opportunities depending on who you were and what you wanted to get out of the day.  It was an opportunity, a positive community service opportunity that led itself to fulfilling a number of wishes."
RISE students certainly got a lot of the day! Upon arriving at 7:30 am, they helped set up various activity stations for the approximately 450 guests.  Students had options to choose which service project they wanted to participate in throughout the day.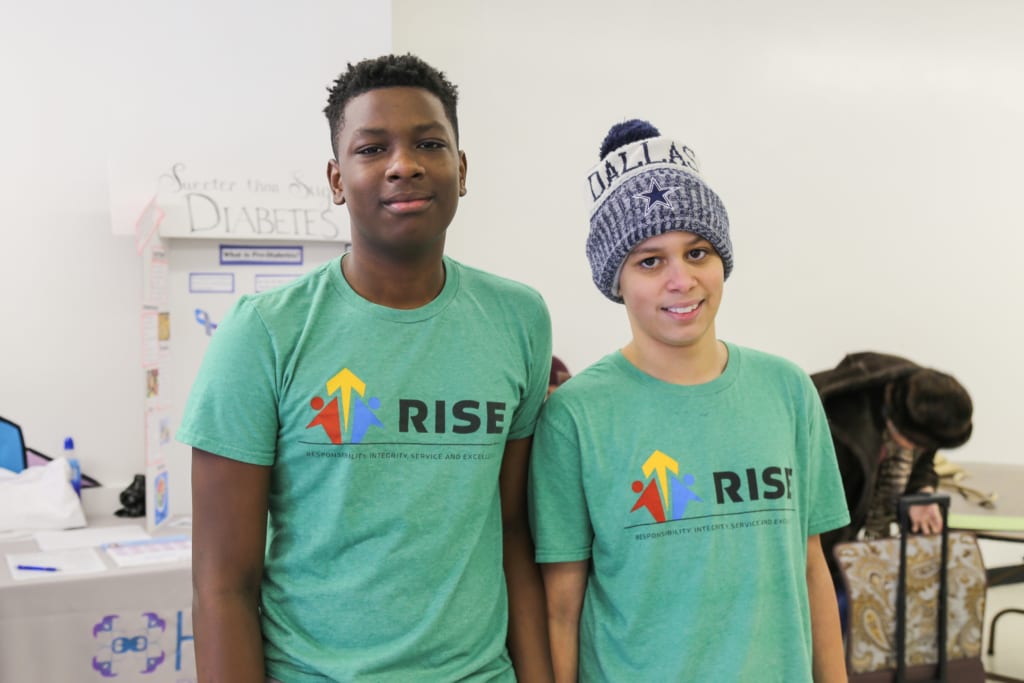 Students chose between making lap quilts for veterans, filling toiletry bags for the homeless, mural painting, organizing a book fair, serving meals to guests, and more. They could also attend various workshops, listen to guest speakers, and visit the Black History 101 Mobile Museum.
Two students also dressed up as historical figures and walked around throughout the day and talked to everyone, giving them information, while also learning as well.
Khyree Williams, an 8th grade student in RISE, dressed up as Malcom X for the day.
This was one of Khyree's favorite parts of the entire day.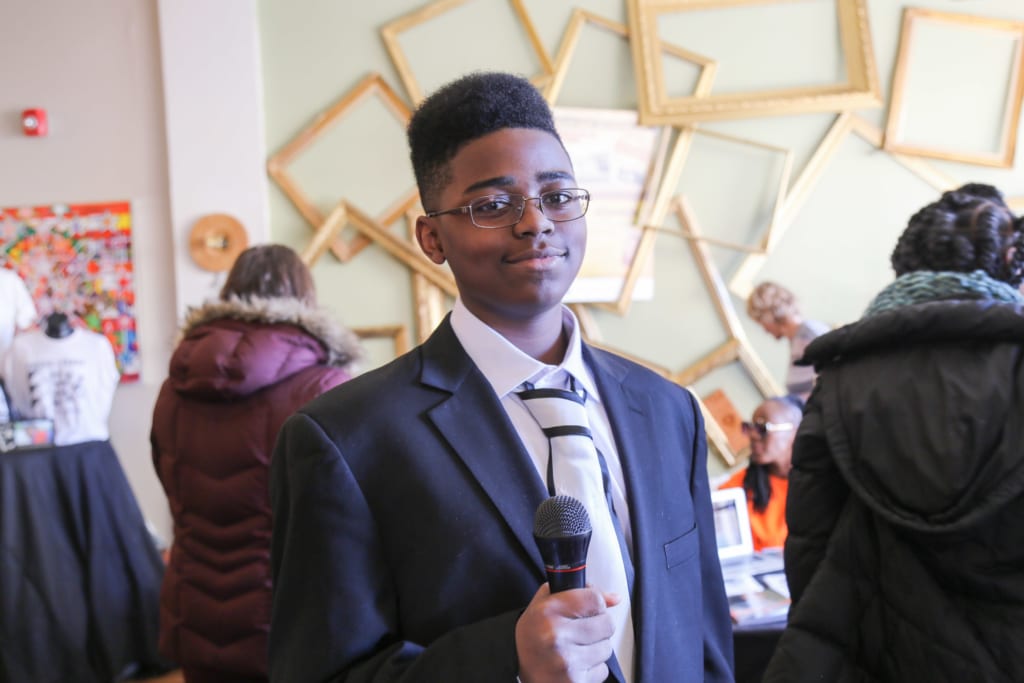 "I went around and I was talking to everyone and asking them if they knew who I was," Khyree said.  "I told them I was Malcolm X and I told them the basics of his life and how he died and then at the end, we did one of Malcolm's quotes and I read it and they repeated it after me."
This quote came from Malcolm X's 'Because of Them We Can' Pledge and Khyree felt especially inspired by this famous quote.
 "Usually when people are sad, they don't do anything.  They just cry over their condition. But when they get angry, they bring about a change." – Malcolm X
Khyree said he enjoyed learning a lot about both Martin Luther King Jr. and also those who made an impact on him, such as Malcolm X.
Khyree said the Day of Service emphasized some of the things he has learned throughout his time in the RISE program.
"I've learned that it is okay to speak up," Khyree said.  "And to also know that I have a voice."
Dyvne Lee, is a 9th grader student in RISE, who also had a great experience participating in the Day of Service.
"I actually really like giving back and when I was there I did the sewing," Dyvne said.  "We were sewing to make blankets for the soldiers and it was really fun. I love giving back to other people."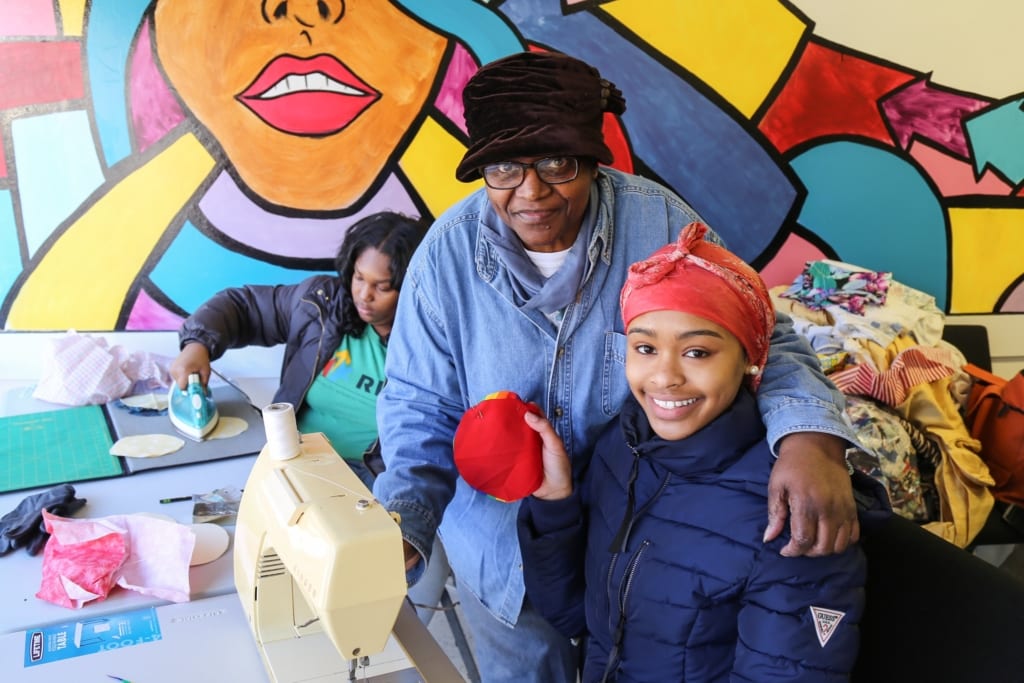 Dyvne has been involved with the Andrew L. Hicks, Jr. Foundation's programs since she was in the second grade.
Throughout her years of involvement, she believes leadership, learning how to talk to people and respect are the biggest things she has learned.
"My leadership has improved," Dyvne said.  "I'm in student council in school now and I am president of student council."
Nhaamir Silva, a 7th grade student in RISE, enjoyed every part of the Day of Service and he helped wherever he was needed!
He participated in several areas including set up, cleaning and the mural painting.
Nhaamir has been in the RISE Program for one year now.  This was his first event with the program.
"It was a great day of giving back," Nhaamir said  "It taught me about Martin Luther King Jr. Day and some things that I didn't know before, like what things that he didn't do, what things he did do."
So far, Nhaamir has had a great experience with the program and he is looking forward to more experiences like the Day of Service.
"RISE is a thing that helps people," Nhaamir said.  "Helps homeless people, helps people get to know one another, it helps everything.  If there are certain events that don't have enough people, RISE will be there and help.  RISE is a community that helps and makes sure they are a part of everything to make it good."