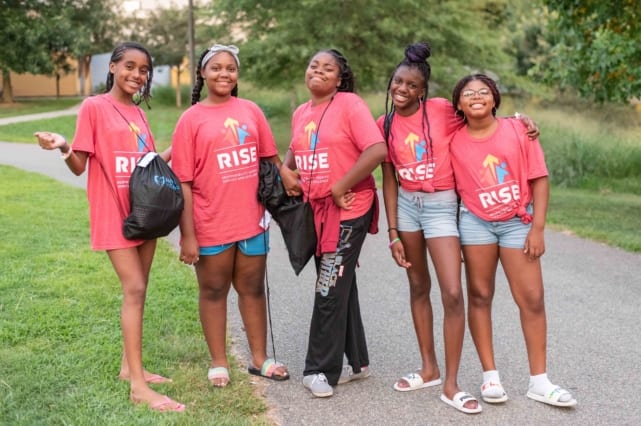 RISE Camp 2019
On Sunday, August 4th RISE students started a fun week at NorthBay Adventure Camp in North East, Maryland. RISE Camp is held that same week as the Foundation's Camp Lionheart – but RISE Camp is for rising Chester 7th – 10th graders.
Returning RISE students welcome the new class of 7th graders to the Foundation's teen leadership development program. They will spend the coming school-year meeting once a week for personal reflection, long-term goal setting, collaboration, and community service. To prepare for this challenging year, more is asked of the teens while they are at camp. RISE campers are split into 3 grade groups and participate in multiple team-building tasks and adventures in nature that force them out of their comfort zones and require them to support each other to succeed.
Throughout the week, each group has opportunities to snorkel in the Chesapeake Bay, explore the wetland habitat up to their waists, hike and camp overnight in woods, build their own tents, and learn camping survival skills. They also have the opportunity to enjoy NorthBay adventure and team-building tasks such as zip-lining, rock wall climbing, and conquer the high ropes obstacle course through the trees. We also try to give campers as much time in the water as possible, during the hot August days- pool parties, tubing, kayaking, fishing, sailing and more.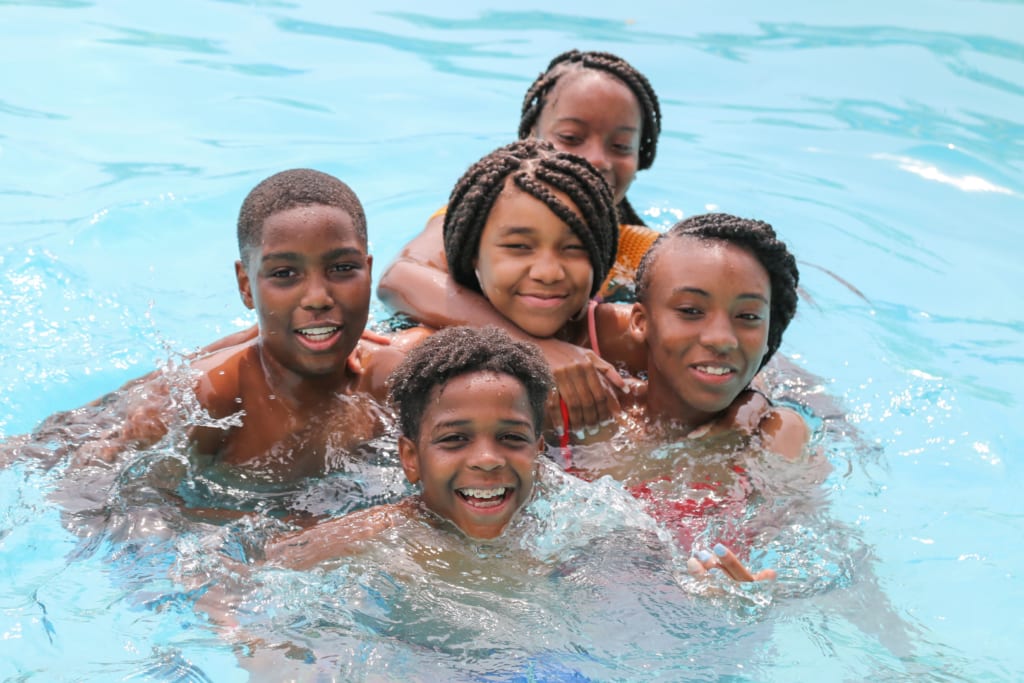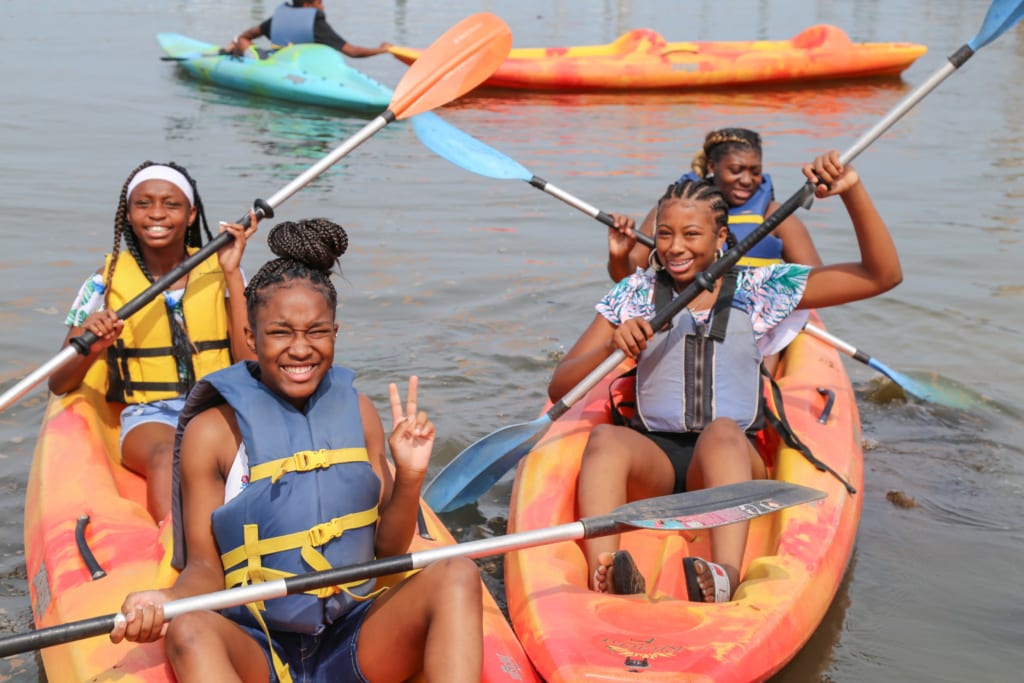 Beyond the physical activities, a few special guests challenged RISErs on more social and emotional levels. Laurie Griffith presented a workshop on the importance of self-care strategies. Kris Brightbill coached us through recognizing stress, anxiety and depression in ourselves and others, and how to help. We were also visited by Jack Brewer and the Jack Brewer Foundation. Jack and his team spoke to RISE students about taking advantage of every opportunity they are given to improve themselves, to support their peers in making positive choices, and to serve their community. They also put RISErs through their paces in a series of football drills, during a fun night-time session at Pond 10.
The ultimate goal of RISE camp is to bring the individual groups, and RISE as a whole, closer together. Through each days' challenging activities, campers build new friendships, strengthen existing friendships, and bond with RISE staff. These bonds will support them throughout the coming school-year and beyond.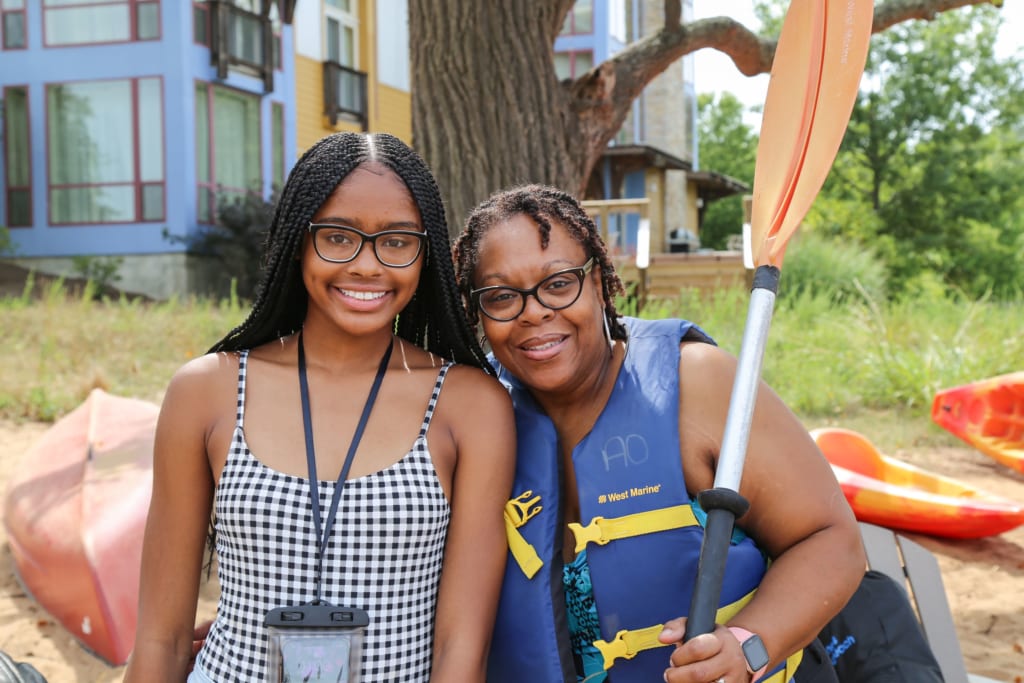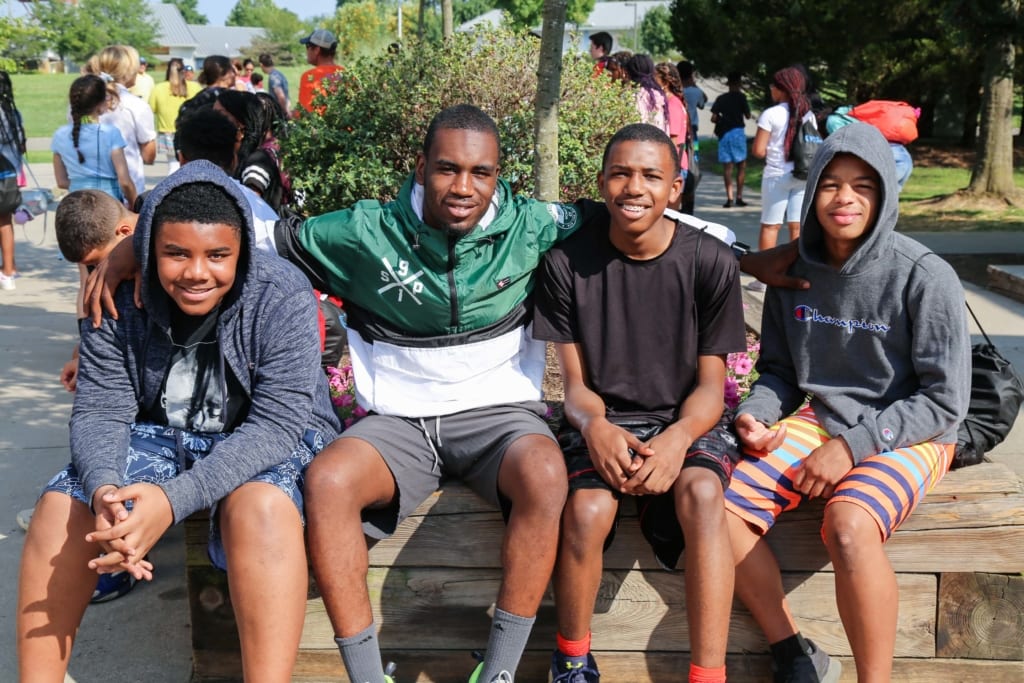 Special "THANK YOU!" to the local volunteers who make RISE Camp possible. These are mostly parents of RISE students, who want to get more involved with our mission and "give back" to the Foundation and their community.  They also help by recruiting friends and family to serve with them. They work so well as a team, and truly demonstrate to campers that RISE is not just a program- it is a family.
Thank you to Ron Lee, Jamil and Quintonia Boyer, Melvin Harris, Quimon Brody, Kenny Mack, Tyrrea Byrd and Tonia Atkins. You kayak, camp in the woods, snorkel in the bay, wade through buggy wetlands with fishing nets, hike through the dark, and do it all with heart.  We appreciate you!