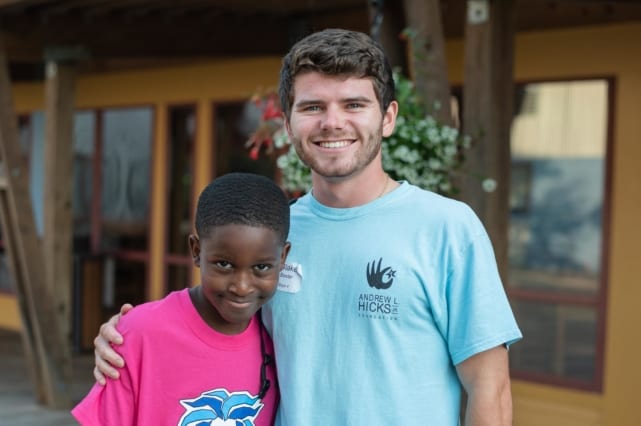 Camp Lionheart 2019
Day 1
On Sunday, August 4 over 100 Chester 2nd- 6th graders were bused down to North East, Maryland for Camp Lionheart. The children  were met by over 75 volunteers including counselors , adult chaperones, and dining hall staff all excited to spend the next 5 days experiencing amazing camp adventures together. Among our volunteers this year included 8 awesome alumni of our RISE program ready to serve as counselors to the young campers. When they finally arrived at NorthBay Adventure Camp everyone separated into cabins and settled into their bunks. There were lots of introductions and some reuniting with old friends. A delicious dinner was served by our amazing dining hall staff and lots of excitement was in the air for what the week would bring. Some returning campers knew of the experiences that were to come, while newcomers sat in anticipation. Following dinner, everyone made their way down to the beach to enjoy an amazing sunset and roasting s'mores over a camp fire. It was an amazing first day that set the tone for the rest of the week.
---
Day 2
Day 2 kicked off with a rotation of adventure activities including a high ropes course, a three person swing, rock climbing, and zip-lining! Many campers faced their fears and with encouragement from their counselors challenged themselves to try new things. It was awesome to see returning campers who were scared the year before to step up to the zip-line with confidence. Following lunch campers were introduced to some special guests joining us this year. Thanks to Henderson alum Courtney Baxter, Jack Brewer a former NFL football player, along with former super bowl champs Jonathan Casillas and Adrian Hamilton surprised campers. Brewer brought his American Heroes Initiative a part of the Jack Brewer Foundation focusing on bringing lessons of empowerment and hard work through sport and powerful conversation. Jack pushed and challenged our campers through a variety of football drills and activities, and after some hesitation a lot of the campers blossomed and really got into the activities.
Campers also took part in a craft creating their own super hero masks and capes to go in line with this year's camp theme of "Share Your Super Power". We encouraged campers to discover what their super power was and how they can use it to change the world. After some much needed pool time to cool off from all their hard work, campers enjoyed some quiet time in the cabins. Following dinner campers headed to the theater for a moving presentation from Brewer about challenging themselves to make a difference in their communities and encouraging campers to "give it all you got".  The night wrapped up with popsicles and a bonfire on the beach. It was safe to say campers slept well that night.
---
Day 3
Day 3 began with more fun zip lining, rock climbing, and high ropes adventures. Watching campers step up and try new thingswas incredible to witness. The afternoon brought water day activities! It was appropriately one of the hottest days at camp so, we had plenty of water games to beat the heat. Campers took part in water relay races, a water ballon toss, and plenty of pool time. But the best part of all was the giant slip and slide – campers would have gone down it for hours if we let them. Year after year the slip and slide is always a camp favorite. In the evening, everyone took part in a giant scavenger hunt where groups ran around camp performing different activities and tasks to earn their super powers (glow sticks). Many smiles and giggles all around for another successful day at camp.
---
Day 4
Day 4 started off with an "amazing race" activity that took campers all around camp performing different fun games. The children had to learn how to work together to achieve a common goal. It was great to see lots of campers encouraging and supporting one another. Other excursions that morning included a boat ride on the iconic  "Miss Nancy" and some fun kayaking out on the Chesapeake Bay. The afternoon included a rotation of activities including pool time, rock climbing, gaga ball, and volleyball taught by the wonderful volunteers at Sow Good Now. Following the outdoor fun everyone piled into the theatre for the Camp Talent Show. Campers got up on the stage and showed off all their unique talents. That evening everyone was pretty tired from a jammed packed week of activities so everyone cozied up for a movie night with popcorn and snacks.
---
Day 5
It's always sad to see the last day of camp come, but we know good things have to come to an end. In Camp Lionheart fashion we went out with a bang – the camp carnival! There was lots of fun activities from a dunk tank, mini golf, darts, face painting and so much more. It was an awesome way to close out an even better week of camp. After the carnival, camp awards were given out to each camper created by their camp counselors. After awards were handed out it was unfortunately time to say good bye. Some tears were shed, but alas many great friendships and memories were made and everyone is already looking forward to returning next year!
---
Special Thanks
NorthBay Adventure
Maryanne Parsons, Partners In Outreach
Sow Good Now
Turner Construction
Terry Boate
Jack Brewer Foundation
Kraft Buses
Kris Brightbill
Billy & Sammi Latta, A. Duie Pyle
Aimee Gustitis, RN
Elaine Fuguet, RN