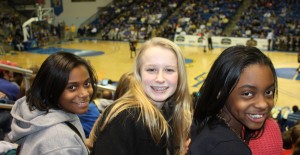 The Andrew L. Hicks, Jr. Foundation took the HHS Warrior Guides and their Braves to the University of Delaware on Saturday, January 14, 2012 to watch the Men's Basketball team play against Virginia Commonwealth University.
The Chester children arrived in their buses at the exact same time that the HHS kids arrived in our buses.  Everyone matched up with their partners quickly in the parking lot, greeting each other with big hugs and then we all walked into the Bob Carpenter center to find our seats.  The basketball game was really exciting and everyone enjoyed a hot dog and soda together during the first half of the game.  Right after the second period began, we all had the chance to have some fresh ice cream from the University of Delaware's Creamery.  It was fantastic!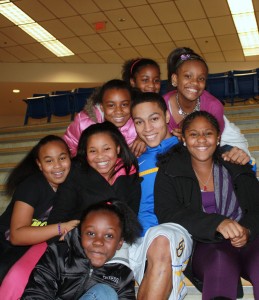 When the game was over, everyone was treated to a beautiful, large poster of the UD Men's Basketball team and every single player on the team sat down at a large table and the Warrior Guides and the Braves walked through and got every player's autograph!  The college athletes were so humble and encouraging.  After that, we sat down courtside and listened to Assistant Coach Jeff Rafferty give an inspirational speech to the kids.
This event would not have been possible without the tremendous effort of Mrs. Michelle Ross, Coach Monte Ross and the generous support of the National Association of Coaches Wives Heels to Hoops Program.  We are so thankful for this wonderful opportunity.  We had a blast!
Special Thanks:
UD Men's Basketball Coach, Monte Ross
Michelle Ross
National Association of Basketball Wives Heels and Hoops Program
University of Delaware Basketball Concessions Office
Krapf Bus Company