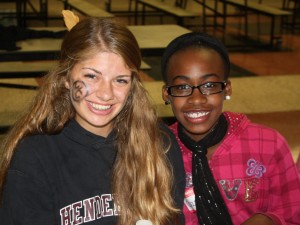 The Warrior Guides invited the Braves from Chester to Henderson High School's Homecoming festivities which took place on Friday, October 14th.  Almost 70 Chester children rode on buses to attend the Homecoming event with their Warrior Guide.  The entire group enjoyed a pizza party together in Henderson's cafeteria and then walked a few blocks into the Borough so that they could watch the Homecoming Parade.  Each class at Henderson decorated a float with an epic movie theme.  The Chester kids loved the band, the cheerleaders and the floats.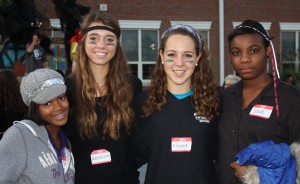 After the Parade passed by, the Warrior Guides and Braves went back to the high school to watch the Seniors, Juniors, Sophmores and Freshmen perform skits related to their movie and compete for the honor of Best Skit.  Soon after the group headed back into the cafeteria for dessert and a few fun games.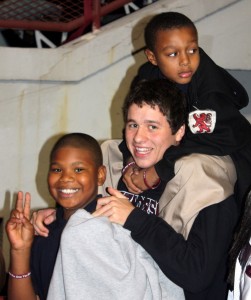 At 7pm the crowd went out to the football stadium to see the Homecoming Court announced and to watch the football game against rival, Rustin High School.  At halftime, Homecoming Queen was announced and then the kids had to say their goodbyes until their next get together in November.  The evening proved to be the start of some really great friendships.  We are looking forward to watching these friendships grow!
Special thanks:
Krapf buses
University Pizza
Henderson High School Athletics Department