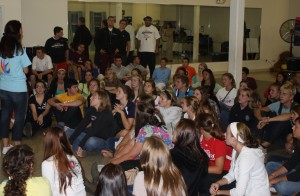 On Monday, October 10th, 2011, 80 enthusiastic Henderson High School students went to Chester, PA in anticipation of meeting the middle school student that they were to be matched up with, as mentor and mentee, for the 2010/2011 school year.  As the Chester students began to arrive in Kollective Talent's dance studio, the Henderson Warrior Guides would greet and welcome them.  The Chester children were a bit nervous but warmed up very quickly and began sharing just a little bit about themselves.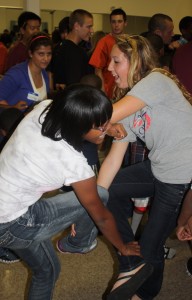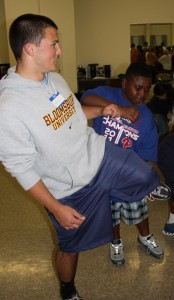 The group played a fun game together which helped to quickly break the ice and warm everyone up to each other.  Then it was time for the mentees, called Braves, to discover which student was to be their mentor for the year.  Matches were made in advance based on a brief questionnaire that revealed interests and hobbies.
Through a game with a series of written down clues, the Braves guessed who their Warrior Guide was and then the entire matched group played some really fun games together.  The evening ended with a snack for everyone and a short opportunity to chat.  Everyone went home looking forward to the first event, Homecoming at Henderson, which is set for Friday, October 14th!
Special thanks:
Kollective Talent
Krapf Bus Company