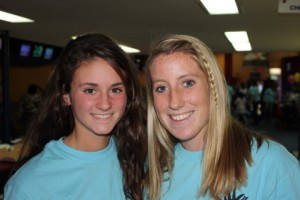 On Saturday, November 20, 2010, 94 Chester children spent the afternoon bowling, dancing, and truly enjoying the day with 75 Henderson High School students at the Foundation's first ever Open Bowl event at the Palace Bowling and Entertainment Center in Downingtown, PA.  Two of Andrew's friends and classmates, seniors Caitlin Lentz and Aggie Lawrence imagined, created and fully organized the event.  The outing was designed specifically to follow the 9th Street Community and Youth Center Open House Fall Carnival.  After having introduced the Foundation and Henderson High School to the youth of Chester, the purpose of the Open Bowl was to further develop this new and growing relationship between the children of Chester and the youth of West Chester.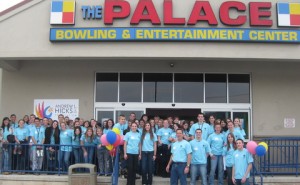 The Foundation bused the children along with 35 Chester chaperones from the 9th Street Community and Youth Center to Downingtown where children were paired with Henderson High School students.  The kids bowled together, and enjoyed pizza, soda and snacks together.  There were lots of fun contests and even a DJ there that day.  It was great to see everyone hip hop and line dancing on the dance floor together with giant smiles on everyone's faces and many Chester kids in the arms of the Henderson students!  It is the hope of the Foundation that events like this one will continue to build trust, friendships, understanding, compassion and RESPECT between the two communities through the youth of the towns.
Everyone was sad to see the afternoon come to a close.  The love and affection between the kids was so genuine and there was so much gratitude and grace displayed that afternoon.  God is at work and the Foundation is so blessed to be a part of it.
Special thanks:
Henderson High School
The Palace Bowling and Entertainment Center
Krapf Buses
Sonny Entertainment
Tripoint Properties
Chesco Family Law
Kimberly Cox, Esquire
Herr's Snacks
Tuttle Marketing
Matrix Productions, Inc