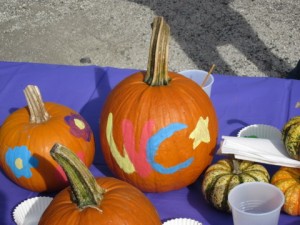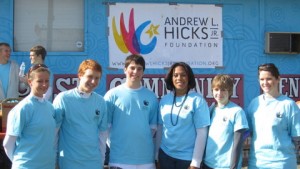 On Saturday, October 30, 2010, the Andrew L. Hicks, Jr. Foundation in partnership with Henderson High School of West Chester, PA put on the first 9th Street Community and Youth Center Open House Fall Carnival.  
The day began at 9am at Henderson High School where over 60 volunteer Henderson High School students, under the direction of Senior Class Project Coordinators Matt Miller, Michelle Cooper, Megan Whitehead and Oliver Kirkman, along with HHS sponsor teachers Mrs. Jamie Wagner and Mrs. Laura Fredd, boarded two Krapf school buses headed for Chester.
The buses were escorted by 6 other vehicles loaded with hay, pumpkins, carnival games, food, drinks, and decorations.  Upon arriving at the community center located at 2 W. 9th Street, Chester, the students divided into their pre-arranged activity groups and went to work transforming two parking lots and a community center into a terrific Open House and Fall Carnival.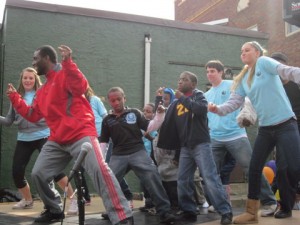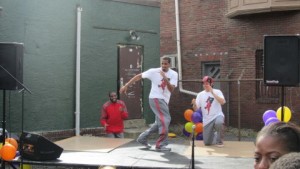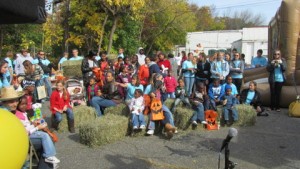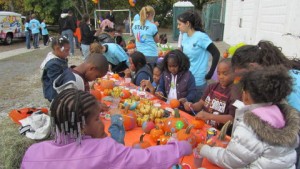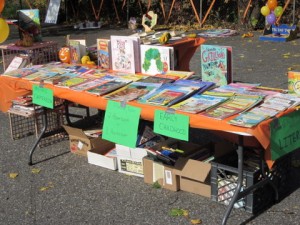 Activities for the day included two moon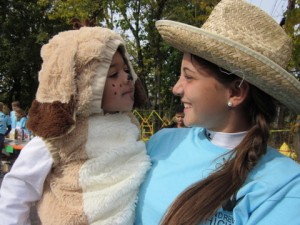 bounces, face painting, pumpkin painting, 8 carnival games with prizes, and a Henderson High School Promotes Literacy book giveaway.  Entertainment for the day included a live hip hop dance exposition by Chosen Dance Company.  The dance group's leader, Clyde Evans, Jr. narrated the history of hip hop as they demonstrated examples of each kind of dance and included audience participation.  Everyone enjoyed the different dance numbers and seeing the courageous members of the audience get up and show off their hip hop moves.  There was also a live Christian rap music performance by Pointmen.  These two young rappers entertained the crowd with their creative sound and meaningful message.
FREE food at the Carnival included hotdogs, drinks, popcorn, Polish Water Ice, soft pretzels and Herrs chips.  Each child also received a treat bag filled with goodies.
Some community organizations were also represented at the Carnival.  Attenders were able to pick up information from PECO, the Chester Weed and Seed Program, the Chester Police and the Chester Youth Collaborative.
The entire 9th Street Open House Fall Carnival was planned and run by Henderson High School students.  There were support roles played that day by some West Chester adults, but an overwhelming majority of this event was completed by Andrew's peers at Henderson.  It is amazing what these young adults are capable of, and where their hearts are aimed!
Henderson High School
Krapf Buses
Chosen Dance
Pointmen
Polish Water Ice
Herrs Chips
Tally Ho Coffee
Piazza Pizza
Henderson High School After Prom Committee
Rustin High School After Prom Committee
Wegmans
Giant Food Stores
Young Life
Christ Community Church
Christ Community Church, Middle School Girls Bible Study
Desire of My Heart Farm
Tripoint Properties
Terraclean Power Washing
Green Mansion Nursery
Matrix Productions, Inc.
Tuttle Marketing
Chester Fire Department
Chester Police Department