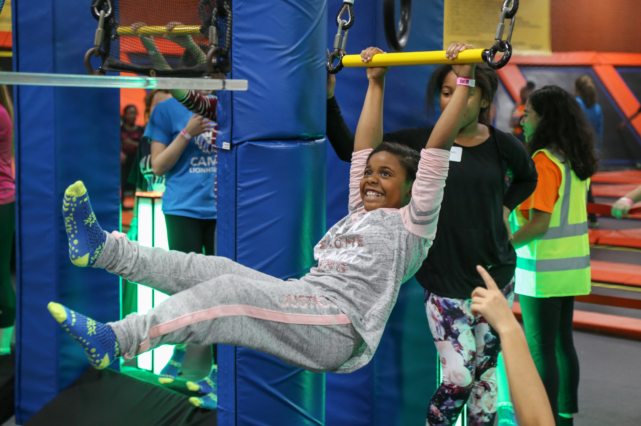 Warrior Guides Urban Air 2017
On Sunday evening of November 6, Warrior Guides returned to Urban Air Trampoline Park in Downingtown, PA for the second year in a row. Last year this event was such a hit with everyone, we knew we just had to come back! The Chester students arrived by bus around 6:00 PM and all the pairs reunited and enjoyed a nice dinner of hot sandwiches, chips, and water together.
After dinner, the lovely staff at Urban Air handed out wrist bands and their snazzy blue and green socks and everyone ran into the Trampoline Park. There was a warrior obstacle course, two dodge ball arenas, a large trampoline area, multiple foam pits, and even a basketball hoop. After two hours of jumping everyone was exhausted and it was sadly time to go home. As the group said their goodbyes, they enjoyed a rice crispy treat snack before they got their shoes on and piled onto the bus home. With this just being the Warrior Guides third time meeting it's wonderful seeing all the friendships being created.
Thank you to Urban Air for graciously hosting our large group as well as our sponsors Fox Rothschild and Liberty Surgical for making the evening possible.
Special Thanks:
Fox Rothschild
Liberty Surgical
Urban Air- Downingtown
Krapf Buses
Lione's Pizza
Herr's
---