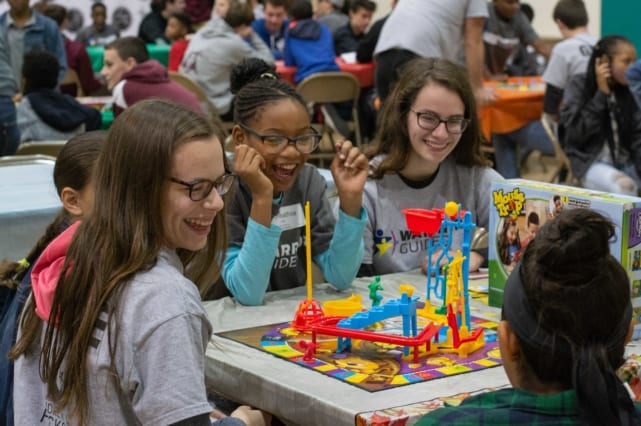 Warrior Guides Game Night
On November 11th, the Warrior Guides got together and held their first ever Game Night! The evening brought the group to the large auditorium of the Christian Church of Chester for a night of friendly competition with some classic board games. Pairs brook off into small groups and got to pick from a large selection of fun games and activities to rotate through out the evening. Lots of laughs and encouragements were heard between groups as they worked both together and against one another. The one-on-one connection while sitting down to enjoy a game together is incomparable and wonderful for our pairs to continue to get to know one another.
Though out the night different groups took breaks to enjoy a taco bar for dinner! There were taco makings along with various dips and salsas to enjoy. Following more games and food the evening concluded with a nice cookie dessert. It was a slower paced event for our Guides and Braves, but this aloud for friendships to bloom through some friendly competition. Everyone left looking forward to next months event- a fan favorite, our annual Christmas party!
Special Thanks
Christian Church of Chester
Krapf Bus
---