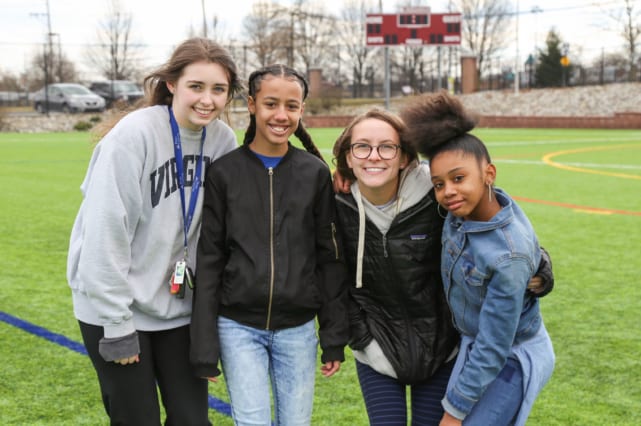 Warrior Guides Field Day 2019
This month's Warrior Guides event was Field Day! A fun event held at Henderson High School, led by the wonderful people at Push The Rock Delco. The group met up in the gymnasium at Henderson and first listened to an an inspiring speech from a Push The Rock leader about what it takes to set goals and achieve them. There were a lot of attentive ears.
Following their motivational speech our Warrior Guides pairs split up into small groups with half heading out to the turf field and half remaining in the gym. Together our Braves and Guides participated in a variety of fun field day games from dodge ball to an extreme game of tic-tac-toe. Each station was led by a Push The Rock leader who encouraged the groups to work together, cheer on their team members, and have fun!
For all their hard work and enduring some windy and chilly March temperatures the group was rewarded with some delicious food from Penn's Table as well as a tasty Dairy Queen blizzard dessert. With only one more Warrior Guide event left this year it's incredible how fast this year flew by and how quickly some great bonds and friendships have formed. A special thanks goes to Meridian Bank for sponsoring this event!
Special Thanks
Push the Rock
Meridian Bank
Henderson High School
Penn's Table
Dairy Queen
Krapf Bus
---