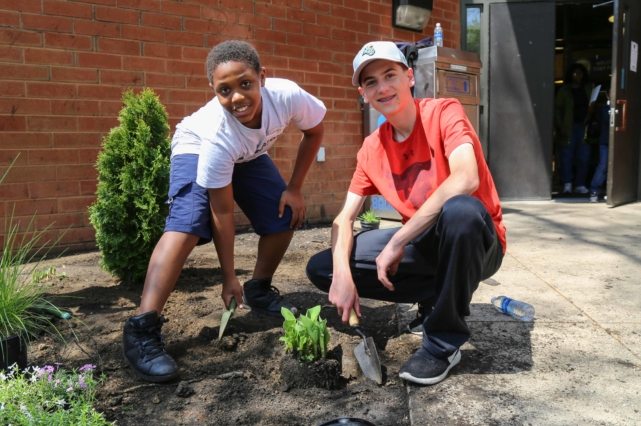 Warrior Guides Community Collaboration Day
On Saturday, April 28, the Warrior Guides participated in their annual Community Collaboration Day down in Chester. The Braves and Guides were spread out over 12 locations across Chester, where the young men and women worked together to beautify their community.
There were various activities going on across the city including planting flowers outside both the Chester police station and firehouse – which also included a luncheon for the first responders. There were groups weeding and planting flower beds across multiple locations including the Madison St. Park, City Team, Fairgrounds Homes, Crozer Library, Wesley House, and the Family Management Center. In addition there was a group at Ruth Bennet Community Farm helping weed the farm, and move mulch and gravel, as well as clean up the property in any way. The day prior Hazley Builders came out to the farm and built two beautiful structures that were desperately needed at the Farm, we are so grateful for their willingness to help. Another new feature to the event this year was a flower potting station at Fairgrounds Homes, where flower pots were donated for the residents to come plant flowers and take them home, while only a few residents came out – the Guides and Braves filled the pots and gave them out to very gracious residents. There was also a group at the Crozier Library who painted beautiful bird houses and hung them through out the park around the library.
After a long 3+ hours of work in the heat the groups made their way back to Chester Community Charter School's gym where they were treated to a lunch consisting of hoagies, chips, and lots of water! In addition we also had Big Var's Water Ice truck as a treat to wrap up a wonderful day, as well as celebrating a successful conclusion of this year's Warrior Guides program. This was the group's last event together; it has been wonderful to see such amazing friendships and bonds form over the course of the school year. It was certainly hard for everyone to say good bye.
A special thanks goes to both Fulton Bank and Hoey Investments who sponsored the event, as well as sent employees to volunteer their time with us.
Special Thanks
Fulton Bank
Hoey Investments
Hazley Builders
Bevan's Cold Cuts
Herr's
Big Var's Water Ice
Chester Community Charter & Susanne Cianfaro
The Flower Station & Bryan Taylor
Krapf Buses
Tally Ho Coffee
Halladay Florist
Bucks County Coffee
Philadelphia Union
Hilton Garden Inn Exton
Laura Perisse
---