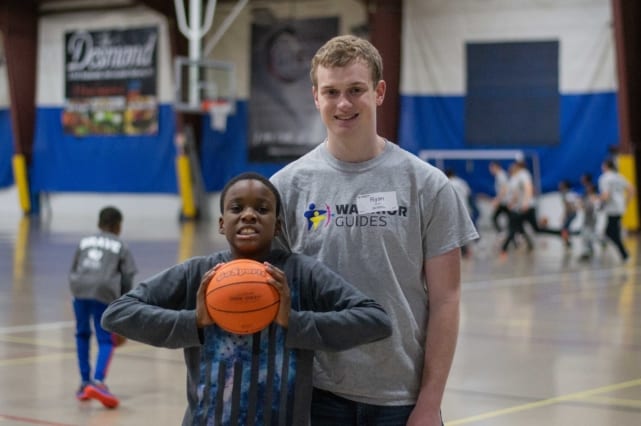 Warrior Guides Christmas
On December 9th Warrior Guides held its annual Christmas Party at United Sports! The Chester Braves were bused to Downingtown where they were met by their Guides. Once at the large sports complex – United Sports, everyone was broken up into 4 smaller groups. Together they would spend the evening rotating through different activities through out the facility.  The different events included a rock wall, inflatables, a gymnastics room full of trampolines, mats, and bars to swing on, a turf field for both dodgeball and soccer, basketball courts, and an activity room with bingo and a Christmas themed craft! And of course a stop on the rotation was a delicious catered dinner from Lione's Pizza including delicious pizza, pasta, salad and drinks all followed up by a tasty cup cake dessert.
The evening was an eventful fun filled night with lots of laughter and fun and just enjoying the wonderful holiday season with one another. As the event came to a close it was time for the Chester Braves to head back on the bus and make their way home. But not with out receiving their holiday gift bag with a Warrior Guides lanyard and lots of candy treats! Some awesome Guides even went out of their way to bring their own personal gift to give to their Brave to really show how much they care for their young mentee. We are so grateful this Christmas season for the beautiful friendships that are being created and strengthened through this program and hope the new year continues to bring lots of joy to our wonderful Guides and Braves!
Special Thanks
Mike & Deni Morton
United Sports
Lione's Pizza
Krapft Bus
---