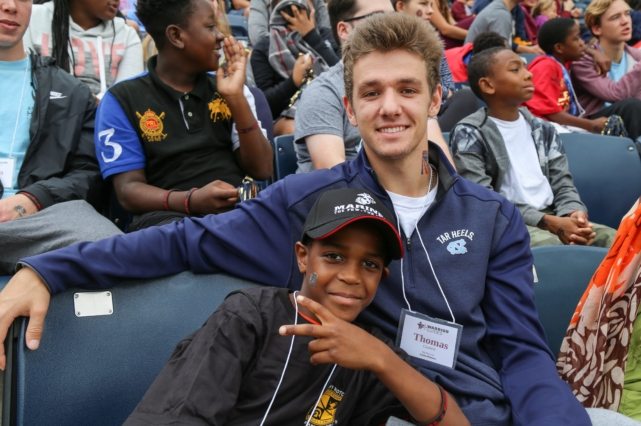 Warrior Guides Army/Navy Soccer Game
On Sunday October 15, just one week after meeting, the Warrior Guides got back together at The Talen Energy Stadium in Chester to enjoy the Army vs. Navy soccer game. Before the game the group was treated to a delicious lunch of hoagies, chips, and drinks. While half the group was eating lunch, the other half was listening to a wonderful presentation from the Travis Manion Foundation on why character matters. They were left with the Foundations motto, "if not me, than who?" a powerful message from a great organization.
After lunch and the presentations, the group got ready for the game by applying spirit tattoos and receiving pom-poms to cheer on the teams. Everyone marched up to the stadium together and took part in various fun games and activities outside the stadium. Then the group went into the stadium and enjoyed the soccer game. Thank you to SEI Investments Company for making the day possible! It's wonderful to see so many friendships flourishing with this just being our second event of the year. Everyone said their goodbyes with great anticipation for next months event!
Special Thanks
Philadelphia Union
Travis Manion Foundation
United States Naval Academy
United States Military Academy
Bevan's Deli
Fare and Square
SEI Investments Company
Duane and Rori Oakes and Family
Krapf Buses
---