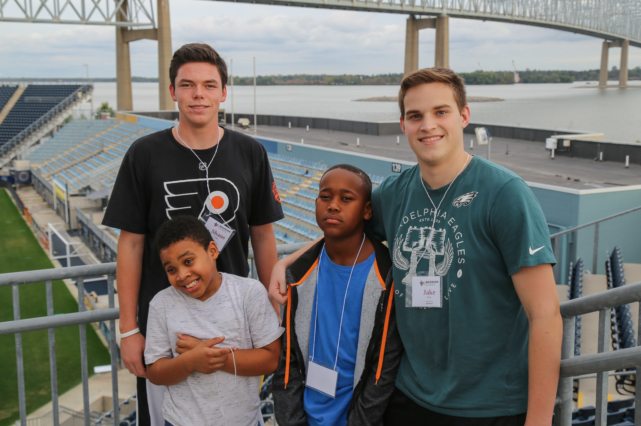 Warrior Guides Orientation
This past Sunday we kicked off our 2017-2018 year of Warrior Guides at the Talen Energy Stadium, home of the Philadelphia Union in Chester. The afternoon began with the Guides arriving an hour before the Braves for them to be given an orientation including a presentation teaching them a little about the history of Chester and where the children in our program come from. They learned what it takes to be a mentor, and what is expected of them in this year long program. The group also participated in a gallery walk featuring photographs  by the artist, Justin Maxon, who's work depicts life in Chester. Following this very informative presentation the Braves slowly began arriving – with lots of anticipation in the air with everyone excited to meet their mentor.
There were some reunions of past Warrior Guide members, as well as participants from past Foundation events, including Camp Lionheart, but there were also many new faces as well! Once everyone met their buddy and was paired up, it was time for a stadium tour by Philadelphia Union employees, Gina Franz and Nicolette Stoner. Gina was a former classmate of Andrew's and has continued to be involved with the Foundation over the years, and helped us host this event at the Talen Energy Stadium.
After a great tour, the pairs got to enjoy dinner on the plaza outside the stadium. Dinner consisted of pizza, chips, apples, and water. As everyone got to know each other the Villanova Soccer Team came by to play some soccer with everyone! Richie Schlentz, a current member on the team, was a former Warrior Guide himself, and encouraged his team to come volunteer their time with us and it looked like everyone had a blast! While some groups were playing soccer – others were doing team building and ice breaker activities to get to know one another.
After lots of fun was had, the evening wrapped up with a cookie and cider dessert, and slowly Brave's parents came and were able to meet their child's Guide and everyone got to know each other. This meant, it sadly was time for everyone to head home after a jam packed afternoon of activities. But not to freight, everyone will be back next week to the stadium to watch the Army/Navy soccer game together!
Thank you to our sponsors CTDI & Edward Jones for making the day possible!
Special Thanks
CTDI
Edward Jones
Philadelphia Union (Gina Franz and Nicolette Stoner)
Villanova Men's Soccer
Justin Maxon Photography
Fare and Square
Just Pizza
Phatso's Bakery
Kraft Buses