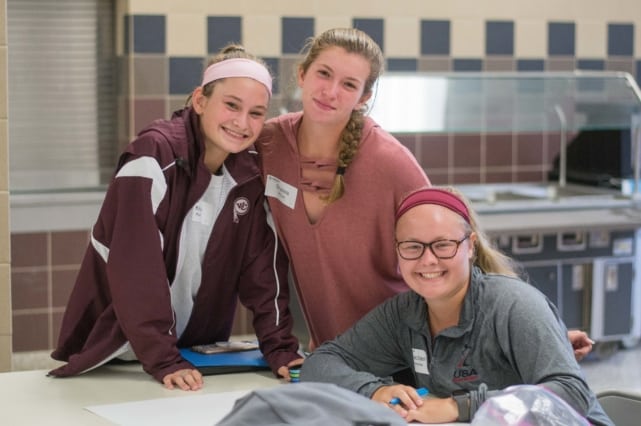 Warrior Guide Orientation
This past Sunday our 2018-2019 Guides met at Henderson High School for Warrior Guide Orientation. The group started off the afternoon with a presentation from our Program Director, Niki Goodson providing the Guides a brief history of Chester, as well as tools and information on what it means to be a good mentor. The orientation's intensions were to prepare the high school students for a year of being a mentor to a young Chester 5th or 6th student. The hope is for the high school students to really get to know their Brave and make a lasting connection in their life.
Following the presentation the group moved to the cafeteria to enjoy a tasty treat from Dairy Queen, and complete two more activities together. One activity required Guides to use Google Maps to research their Brave neighborhood, school, and places they go with friends, for a virtual tour and better understanding where their Brave comes from. What does your Brave see when they walk out the door each morning? Walk home from school? Play on their street? How does this compare to what you see?
The second activity included the students being broken into small groups with each group being randomly assigned a number and corresponding bag of art supplies. The task was to create a poster for our upcoming Fall Carnival. The Lesson- Some groups were given limited supplies, such as a bag of crayons, while others were given a variety of supplies including markers, scissors, glue, felt, and more. The challenge was to see what you could do with the resources available to you. Each group quickly realized they had either an advantage or disadvantage in meeting the same goal. Guides learned that those with more supplies had an easier time with the task, and even had more supplies than they needed. Those with less supplies had to work harder, be more creative, and do the best with what they had to compete with their better equipped peers.
Talent is equally distributed, but resources and opportunity are not.
We discussed this metaphor in regards to the wealth of resources available to West Chester students, compared to those in Chester. We also discussed the stereotype that ALL Chester students are handicapped by a lack of resources.  The children in our programs come from diverse backgrounds, making it even more important that their Guides get to know them at a personal level.  Empathy as a mentor, can go a very long way. And this cultural exchange is a big part of the Warrior Guides mission.
After the group wrapped up their activities they reconvened to discuss the upcoming events, and expectations of Warrior Guides for the 2018-2019 school year. Guides also sent their first text to their Braves, introducing themselves and sharing their contact information. They will follow up this week, with a personal invitation to our first event on October 7. The students seem to have left orientation excited and looking forward in anticipation to meeting their young Brave in just a few short weeks!
Special Thanks:
Edward Jones
Dairy Queen
Henderson High School
---