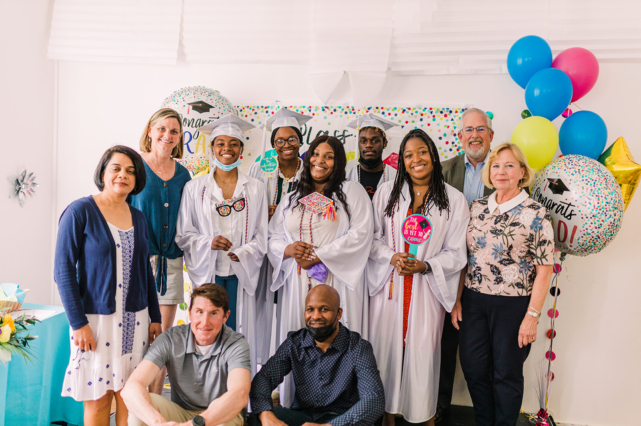 Launch Graduation
Congratulations Launch Class of 2021! All five of our Launch seniors are going to college and we couldn't be prouder. On Sunday, May 16th we were delighted to be able to honor our graduating class and share this special moment with them at the Chester Cultural Arts and Technology Center.
Each of our five graduating seniors along with their families came out to join in the celebration. Pastor Richard Knox led us in prayer, while Karen and Andy Hicks shared their fond memories of our graduating seniors, many of whom have been with the program since the second grade.

Jean-Pierre Brice, who has a daughter in the program, gave a captivating speech emphasizing the quote "What Chester Makes, Makes Chester". These five students truly exemplify the City of Chester, its strength, its tenacity, and its willingness to push forward despite adversity.

It is hard to believe that this wonderful group of students have been with us since the beginning and now they will all be headed off to college. We feel so blessed that we were able to grow with them from elementary school through high school.

As Co-Founder Karen Hicks affectionately states, this is our "Guinea Pig Class", helping us to develop our programming along the way, giving important feedback as we go. We were so happy to be able to share in this special moment with them and will always be grateful for their dedication to the Foundation.
We would like to give a special shout out to Leslie Kelso, who made sure that our students had a graduation they could be proud of: from the décor to the refreshments everything was perfect. Thank you, Leslie, for all your hard work in making this happen.