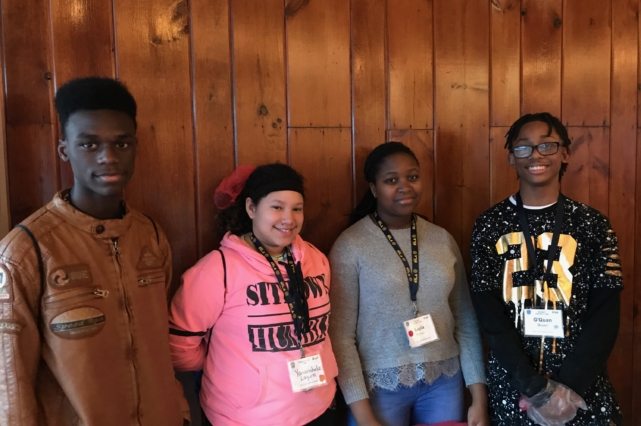 RISE Update: RYLA and Winter Retreat

---
Rotary Youth Leadership Awards Conference
---
Four of our 9th grade RISE students recently attend the Rotary Youth Leadership Awards Conference. Congratulations to Lay'La Harmon, Yariansheliz Laguna, G'Quan Brown, and Keyon Williams!
RYLA is a leadership development program run by RYLA District 7450. Their local Rotary Club sponsored all four students to participate in the weekend retreat, hosted at Freedoms Foundation in Valley Forge. Their first challenge was to work collaboratively with participants from all over the Philadelphia area, and bag 10,000 meals in only 2 hours for Rise Against Hunger. This is an international hunger relief organization, feeding millions of people around the world each year. Friday through Sunday, students participated in various team building, service, and leadership workshops. They also enjoyed guest speakers on various leadership topics, a semi-formal dinner, and awards ceremony.
We look forward to many more opportunities, like this one, for our RISE students.
---
Christ Community Church Summit Winter Retreat
---
"We had an awesome weekend at NorthBay Adventure Camp in North East, Md. This was our 5th year with NorthBay and one of our best weekends yet. Our weekend theme was "Anchored: how to experience closeness with Jesus on a daily basis". We broke this down through four weekend sessions along with cabin time after each session. My favorite part is seeing the students connect with God and each other. The rest of the weekend was filled with adventures including bonfires on the beach, Epic Encounter (Amazing Race), Mission Impossible, Bungee drop swing, zip lining, and much more. It was an honor to have Yari, Khalil, G'Quan, and Keyon with us. They contributed so much to the weekend and were a joy to be around. I had the three guys in my cabin so saw first hand how well they connected and grew. By the end of the weekend, the rest of the freshman guys in my cabin invited them to join us on our guys get away weekend in May. One more cool note – we had a VIP seat where we acknowledged 3 students who excelled and stood out during the weekend. Keyon was one of these three. We are thankful for the partnership with the Andrew L. Hicks Foundation and look forward to linking arms and hearts again in the near future."
Brett Derr
Director of Student Ministries