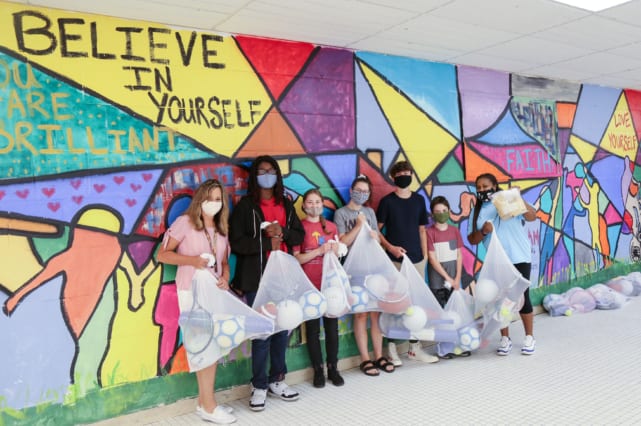 Virtual Summer Camp 2020
Summer camp is an excellent opportunity to explore new things outside of a classroom as well as participate in more of the things you love. Due to the current global pandemic and out of safety for our community, the Foundation's camp looked a little different this year. As sad as we were that we could not have Camp Lionheart, we thought of the next best thing, our first ever week of Virtual Summer Camp.
Thank you to our amazing partners Painting Freedom, Sow Good Now, Greeners Partners, Uncommon Individual and Partners in Outreach for making our first virtual camp such a huge success with their array of content provided for our campers to participate in. In addition, let's not forget those who provided us with delicious food and snacks all week. Incredible Edibles by Carla provided our daily lunches and Thom's Jerky provided delicious jerky snacks for campers to enjoy. Without our amazing partners' support, none of this would have been possible. A big thank you also goes out to the many volunteers that worked behind the scenes to help us put our camp together. Thank you to all those who assembled camp kits and helped deliver to our families in the beginning of the week. We truly would not have been able to make all of this happen without your unwavering support.
Although this year's camp was very different, we still managed to have a great time and provide our Chester campers with a unique experience. We started our day with a wonderful devotional reading by RISE students, Kathrine Donald and Rasheed Johnson. We learned some fun fundamentals about a variety of sports and even had a chance to win prizes with a daily activity challenge featuring volleyball, yoga, soccer, tennis, and football. Following sports was our virtual reading and art activities. We loved learning about plants by watching the Greener Partner farming videos which included content offering campers lessons on how to grow fruits and vegetables. And our campers were even provided their own fruit and vegetables to try and grow themselves using some of the tips they learned in the lessons.
Thank you to all of the amazing campers that participated in our first ever virtual camp experience. Without all of your hard work and determination, this unique event would not have been such a success. We are so excited to have been a part of your virtual camp experience, and will miss seeing everyone via Zoom each day! Check out some photos from the week below and make sure you follow our social media for announcements on our upcoming events as we adapt to our new normal with the health and safety of our community at the forefront of our planning.
Thank You To Our Sponsors
The Pilgrim Foundation
Green Street Grill
The Biddle Family
The Timken Company
---