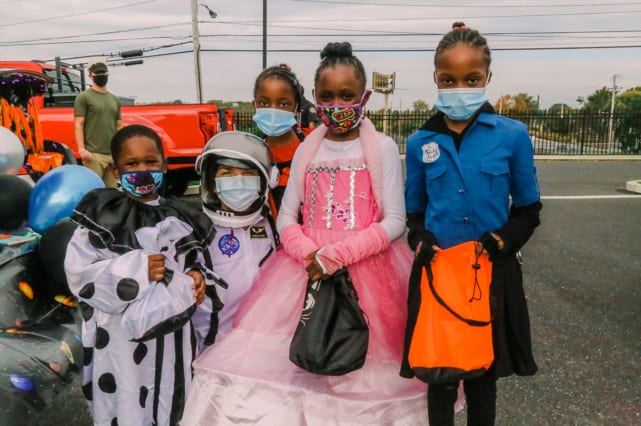 Trunk-or-Treat 2020
On October 24th, the Foundation hosted their first ever Trunk-or-Treat event. Typically, the Foundation hosts an annual Fall Carnival in Chester, but due to the pandemic and the size of the Carnival we needed to make some adjustments. Thanks to the creativity of our RISE and Henderson High School students the idea of a Trunk-or-Treat was presented.
The Foundation welcomed the idea, and we were so happy to be able to provide a safe event for the Chester Community. Over two hundred families came out to join in the fun. Sixty volunteers from both the Chester and West Chester communities graciously gave their time to ensure that this event was a success. Many students from Henderson High School and families from both the West Chester and Chester communities took part in creatively decorating their cars. From spaceships to shark infested waters, the cars turned up with some amazing themes. The children also had the opportunity to participate in fun Halloween games and arts and crafts all while listening to the sounds of DJ, Mr. Dan Spangler.
A special thank you to the Chester Charter Scholars Academy for allowing us to utilize their safe space to host this event. Thanks to their generosity we were able to have over 45 cars lined up in their parking lot allowing a safe distance for all to interact in the fun and games.
Special Thanks
The Chester Fire Department
Boys & Girls Club
K-Love
Chester Charter Scholars Academy
Herr's
Kat Donald and her family
Sue Brown and Carol Hershey
All those who generously donated candy
---