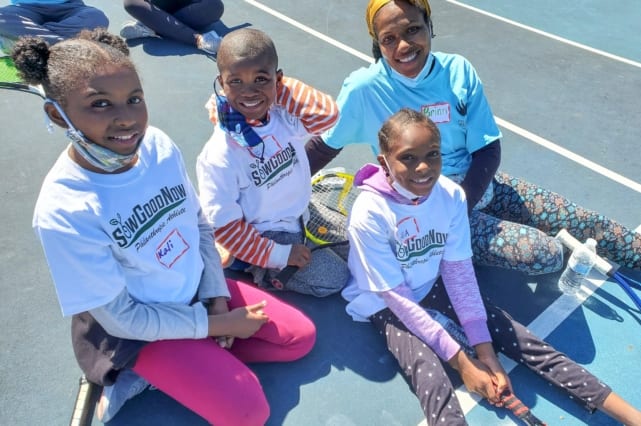 Tennis Clinic 2020
Although our Open Events may look a little different this year, we are not going to let that stop us from having a little fun. On September 18th the Foundation partnered with Sow Good Now to provide a Tennis Clinic to the children of Chester. Sow Good Now engages young athletes to share their time and talent by building relationships in diverse communities.
Together with the help of the Rustin Tennis team, both organizations were able to put on a successful tennis clinic for Chester 2nd-6th graders. The children were taught the basic skills of the game, played in relay matches and took part in arts and crafts activities. To maintain the utmost safety the clinic was hosted in two sessions to limit numbers and masks were worn. Special thanks to Sow Good Now, the Rustin Tennis Team and all of the volunteers from both the Chester and West Chester Communities who came out to support our awesome group of children and joined us for a wonderful fall day of tennis.
Be sure to check our site for upcoming events and the latest updates from The Foundation. Our events will change a bit this year due to the COVID pandemic but we'll hope you'll still join us for some (safe) fun!
Special Thanks
Sow Good Now
Rustin Tennis Team
---