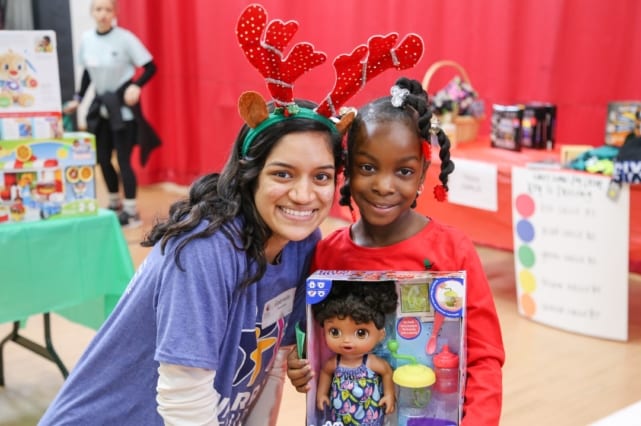 Christmas Toy Store 2019
The Andrew L. Hicks, Jr. Foundation put on it's 10th Annual Christmas Toy Store in Chester, PA on Saturday December 14th. The toy drive had a slow start to the toy donation collection in November, but through the support of our community we managed to make this one of the biggest Toy Store's we've ever put on before. We collected over 3,000 brand new toy donations! We were able to bring the joy of Christmas to over 430 young children from Chester. Each child was selected by school counselors so we could provide Christmas to those in need. This years event was organized by Henderson High School students Kendall Ahrens, Samar Tarazi, Gabrielle Fernandes, Grace Watkins, and Grace Sweeney. We were so impressed with their hard work and dedication to such a large undertaking of an event for the Foundation.
Prior to the store, all of the toy donations were sorted and organized by the lovely community of volunteers at Christ Community Church. They then loaded all the toys on to our truck to be driven down to Chester Community Charter School for our big event. Over 100 volunteers came out on the day of the event to help children "shop" for their toys, wrap the gifts, and shop for presents for their loved ones in our parent gift section. Our toy store also featured a hot chocolate and cookie station, a letters to Santa table, and an arts and crafts table. We even had a table of donated winter coats where we were able to hand out over 200 coats to those in need. And if all that were not enough, Hay Sealcoating pulled through for the third year in a row with 23 brand new bikes to raffle off to the Toy Store participants.
We can not say thank you enough to all of the amazing people who made this special day possible. It truly takes a community of selfless individuals to come together to pull off this incredibly large event. A special thank you goes to our gracious sponsor Hazley Builders for supporting the store for the third year in a row. It takes a village and we are so grateful for everyone that helped bring the spirit of Christmas to those in Chester this year.
Special Thanks
Hazley Builders
Christ Community Church
Chester Community Charter School
Mr. Gift Wrap
Henderson High School
Christ Community Church
Reveal Salon for Women
Salon West Endz
Carlino's Ardmore
Carlino's West Chester
Mary C. Howse Elementary
East Bradford Elementary
Platinum Salon
Brother's Pizza
Dairy Queen West Chester
Peter's Salon
The Bowling Palace
Orange Theory, West Chester
Main Line Gymnastics
Hay Seal Coating
Steven Belmonte
Girl Scout troop 51093
---