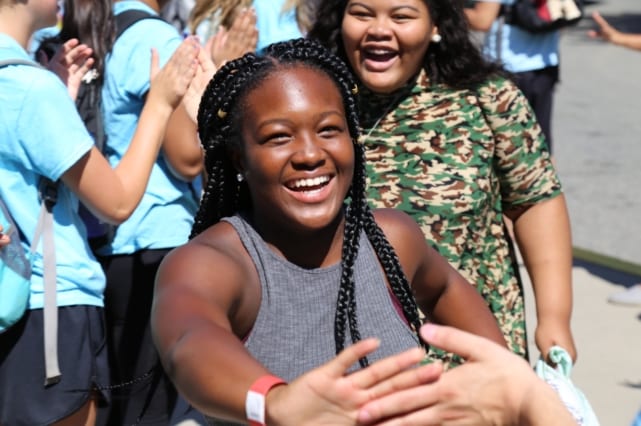 Jadyn Williams
Jadyn, a Chester resident, is currently a ninth grader at the Woodlynde School in Strafford, PA.  She first joined the Foundation when she was in the 3rd grade. She was first a part of Camp Paradise when her dance group was invited to come to camp. Jadyn instantly felt welcomed and felt as if she got the chance to get away from the challenging conditions that she was used to.
Jadyn says the environment of the Foundation made her feel at home right away.  She immediately wanted to be a part of what felt like the Foundation's "family."  When she heard about and visited different places, such as West Chester, it helped her realize that she did not have to limit herself. The Foundation made her realize that she could be anything she wanted to be.

The Foundation has made Jadyn stronger and more confident in herself.  She has learned to stand up for people, for herself and for her community. She says that she now has the skills that she would need to help change and impact someone's life, just as the Foundation has done for her.  In school, Jadyn is able to to lead lessons in front of her class and she has become a recognized leader.
Jadyn's favorite part about being involved in the Foundation is constantly connecting with people and getting out of her comfort zone. She looks back on when she first started in the program and remembers being quiet and not interacting much with anyone else.  Since she goes to school outside of Chester, she did not know too many people in her home town.  Through the Foundation she has developed relationships with everyone in the community. Jadyn says meeting the Hicks' family has changed her life and she will always remember all of the opportunities the Foundation has given her.
Jadyn's favorite hobby is dancing because it makes her happy.  Someday Jadyn hopes she can find a career in which she can help people, specifically minorities by bringing opportunities  to those communities.  Jadyn says as she grows up and eventually graduates from the Foundation, she plans on coming back and helping in any way she can!