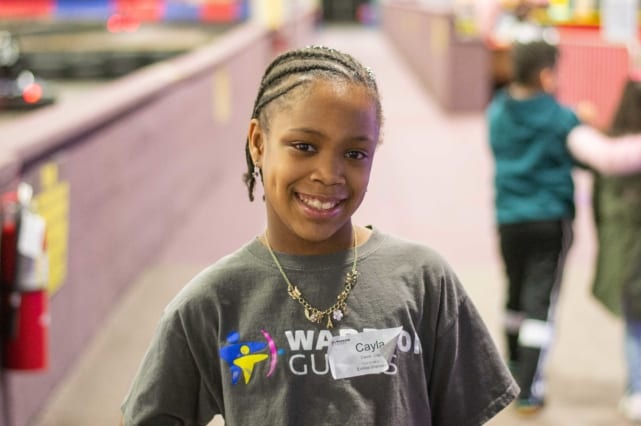 Lives Changed: Cayla Davis-Clark
The below story was written by Allie Stein.
---
Cayla Davis-Clark, a 9-year-old Chester fourth grader in the Warrior Guides program, has a regular daily routine with her mother, Donna Davis.
Every morning, Donna drops Cayla off at her grandmother's house before school and Donna heads off to work at the Media Courthouse.
However, one more morning that routine was completely changed when Cayla's grandmother suffered an aneurysm.  And all thanks to Cayla, she is still alive.
"I dropped Cayla off and I was running a little late," Donna said.  "I saw her walk into the gate and I thought she would be fine because my mom is normally in the doorway or has the door open and it's our regular routine."
Donna tried calling her mother's house several times on her drive to work to confirm that Cayla was safe and in the house, and she couldn't get an answer.
It was not until Donna arrived at work that Cayla finally answered the phone.  The first thing Donna heard on the other end of the phone was Cayla saying 'Mom you gotta come back, please come back! I just found Grandmom on the floor and she's shaking.'
Donna immediately dialed 911 and drove back to Chester.  When she arrived, she could not understand how Cayla had gotten into her grandmother's home.
"I saw stuff laying on the floor and I assumed that the police officer did it when he came into the home," Donna said.  "Then I found out throughout the day, that Cayla actually pushed the window in!"
Cayla thought quickly when she realized something could be wrong with her grandmother when all of the doors were locked and there was no answer at the door.
She stood up on the arm of a plastic chair on her grandmother's porch and put her foot in between the middle of the door between the screen and the glass.  She then hoisted herself up to the window and pushed the window out.
When Cayla got to the top, she looked down and realized she did not want to go face first.  She was able to move her body down safely and enter the house feet first.
Once Cayla got herself in the home, alarms went off that alerted the police, and paramedics were called to the scene as well.  When they arrived, Cayla was still locked inside. She threw the keys outside to allow the police to unlock the padlock.
"Once I got there, the paramedic told me Cayla was standing over top of my mom asking questions and saying 'Who's your daughter?', 'Who's your son?', 'Tell me your grandkids' names," Donna said.  "How she knew to ask those question, I don't know."
Once Cayla's grandmother was taken to the hospital, the doctors told Donna that fluids were building in her brain and the aneurysm had already erupted and they needed to do surgery immediately.
So just how did a 9-year-old think to do all of this and act so quickly in order to save her grandmother's life?
According to Donna, Cayla's answer is simple: rock climbing which she learned at Camp Lionheart!
"This organization has been building Cayla's confidence now for years"
"We talked later that night and she told me about the route she took to get into the house and I was still sitting there with a confused look on my face," Donna said.  "And she just said to me 'Mom! It's just like rock climbing!'
Cayla has attended Camp Lionheart for the past two summers.  Besides her rock climbing skills, that have clearly paid off, Donna says there are other attributes, characteristics and life skills Cayla has learned along the way through both the Warrior Guides program and Camp.
"The first year that Cayla went to Camp, they did zip-lining," Donna said.  "Cayla climbed up there and said that she was not going to go across."
However, Cayla did go across.  And that year, she came home with the 'Bravest Camper' award.
"I'm just thankful and I just want to thank the organization not only for introducing rock climbing to Cayla, but throughout the years they have built her confidence and gave her motivation," Donna said.
Cayla also has a mentor through the Braves program, Emily, who is in the 10th grade. Emily and Cayla see each other once a month. Donna says Emily has inspired Cayla to get involved and become passionate about gymnastics.
"Emily is in gymnastics, so when they're together for that one day, they're doing gymnastics on the side and she's inspiring Cayla in ways that is going to carry Cayla for the rest of her life," Donna said. "You would think that Cayla sees Emily at least once a week. But she sees her once a month and it's awesome and the relationship that they have is awesome."
Donna says it was absolutely a mix of the gymnastics skills she's learned from Emily and the rock climbing she learned at Camp that helped her get into the house safely in order to save her grandmother's life.
"You have to give credit where credit is due," Donna said.
Donna is positive that Cayla's involvement with the Andrew L. Hicks, Jr. Foundation will help her to grow into the best person she can be, no matter what career path or dream she may choose to follow.
"At some point in Cayla's life, I hope Cayla becomes a mentor, and a counselor at Camp," Donna said. "I hope Cayla grows with this program and become the adult that I dream her to be, whatever it is that she wants to be.  She always says that she wants to be a teacher and this program will help her either fulfill her dream or find a new dream. But I know she's going to be something great in this world."