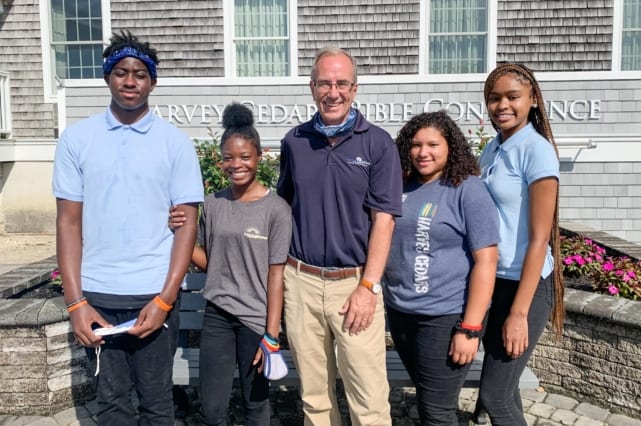 Summer Internship for Launch Students
This past summer, 4 standout Launch students earned the opportunity to participate in the incredible internship program offered at Harvey Cedars Bible Conference in Long Beach Island, NY. Check out a first hand recount of the experience from long time participant in the Foundation's events and programs, Dyvne Lee as well as a description of the program from Jon Oldham, the Director of Harvey Cedars.
Jon Oldham on the Internship Program
"Our summer staff program goals are to provide teenagers the opportunity to learn about growing up, leadership, developing peoples skills, and deepening their faith. We partner with your foundation to provide opportunities for teenagers to learn about life from other teenagers. Over the past years you have recommended some very sharp kids for our summer staff. Many of them have been an asset to our ministry. I believe the summer experience has been a time of growth and understanding where teenagers learn life lessons from each other in a caring community. I look forward to partnering again next year."
Dyvne Lee Testimonial From Harvey Cedars Experience
"I have been a part of the Andrew L. Hicks Foundation since 2nd grade, I am now going into the 10th grade. Last summer the RISE program went on a retreat to Harvey Cedars Bible Conference, and that is when I first heard of this great place. This summer I had the opportunity to work with others and serve guests who share the same beliefs as me. Being surrounded with those who believe in the same faith as me has been very inspirational. During my time here, I feel that I am growing closer to God and learning more about his word. I'm also able to hear about other's stories, devotions, and how they've received God's greatness in their lives. I have also made many friends from all over the world.
With my time here I've created lifelong friendships. During our time off of work, we do lots of fun activities together on and outside of the Conference. We've been to the beach, spent time together to watch sunset and sunrise, went on hour long bike rides, Wawa trips, shopping, paddle boarding and even kayaking. Myself, My'Rēll Stone, Zack Howard, and Yari Laguna [RISE and Launch participants] are all continuing to learn many things from those around us at Harvey Cedars; leadership skills, our viewpoint of Christianity and building new long lasting friendships.
With Coronavirus still being one of our top concerns, Harvey Cedars is doing all that they can to keep their staff and guests as safe and virus free as possible. As a server, we are required to wear gloves, masks, and take our temperature before every shift. We use top tier cleaning products to ensure that no germs or bacteria is spreading from person to person. We have switched to serving outdoors to make sure all families are 6 feet apart from one another. Not only are we taking our temperatures before work shifts, all departments are taking their temperatures before bed as well. To make sure all staff are safe from the virus we stay with our rooms in all big staff gatherings, meal times, traveling in cars, chapel, and dorm meetings. So that if one person from a room gets the virus, it's much easier to detect who may also have the virus. Overall my time here has been wonderful, and I can't wait to come back next year!"