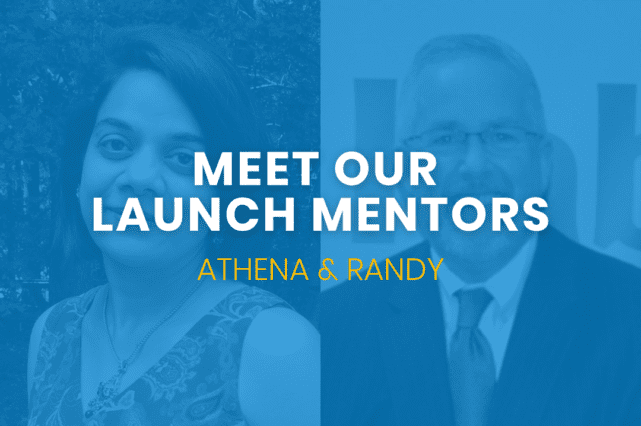 Meet Our Mentors: Athena & Randy
"A mentor is someone who sees more talent and ability within you, than you see in yourself, and helps bring it out of you." — Bob Proctor.
This quote strikes a chord as we observe it happening between mentors and mentees within the Foundation. As relationships grow mentors begin to see unique gifts within our mentees that our mentees are often unable to see within themselves. A true mentor is someone who not only see's that gift within you but helps you to bring that gift to light. As we watch the relationships grow between our mentors and our mentees, we can see our constituents become more confident, more able to speak their minds and give their own opinions and more hopeful about their futures.
Meet two of our mentors who have taken the time to be that special person in the lives of one of our Launch participants.
Athena Fernandes
Athena Fernandes lives with her husband and 3 teenage children in West Chester PA. She is a nurse and works in Clinical Informatics at a community hospital. Her family was initially introduced to the Andrew L. Hicks, Jr. Foundation when her oldest son joined Warrior Guides as a Henderson High School sophomore.
Over the next few years, the remaining Fernandes teens all joined the Foundation as part of the Warrior Guides program. As her oldest son entered his junior year, with college on the horizon, Athena and her husband, along with their son, began attending college prep information sessions offered through the local high schools and public libraries. The more they learned, the more they realized they did not previously know – the options for paying for college, deadlines, early action vs early decision, rolling admission, private and public colleges, what to look for when deciding on colleges, college essays, scholarships, and so on. Two years later, her son graduated and obtained admission into the college of his choice, where he is very happy and excelling. Athena began the college journey all over again, with her daughter who was a high school junior. This time though, she was experienced, confident and knowledgeable in navigating the process.
One day, driving in to work, reflecting on her 2-year college journey with her son, she thought to herself – how can I put that knowledge to work by helping others who are struggling as I did with him? When she got to work, she opened her email and there was a message from Karen Hicks – asking for mentors for the Andrew L. Hicks, Jr. Foundation Launch program! Athena said to herself- "The Lord is showing you the way; answer the call!" Athena has been a part of the Launch program since it began. She and her mentee, Ryann have built a strong relationship and they are now looking forward to celebrating Ryann's graduation this spring and her final decision on which college she will attend next year.
Randy Kunkle
Randy Kunkle is a Vice President and Regional Community Reinvestment Officer with M&T Bank, covering the Greater Delaware and Greater Philadelphia markets. His duties include utilizing the bank's resources for the benefit of low- to moderate-income communities and the nonprofit organizations that support those communities.
Mentoring individuals has been a passion for Randy for many years, and it holds a special place in his heart. In a recent post on LinkedIn, Randy explained this:
"Throughout my life, I've had the benefit of learning from many people who helped mold me into the person I am today. These people – my parents, teachers, coaches, managers, co-workers – played an important role in my personal and professional development. I consider myself lucky for this and I thank them all for their positive influence in my life."
"That is why I believe it is important to pay it forward and why I have participated in many mentor programs over the years. Through the Andrew L. Hicks, Jr. Foundation, I am a mentor to a young man named Keyon, a high school senior, contemplating the next steps in the path of his life."
Randy's relationship with Keyon, a senior at Sun Valley High School, is special to him. After Keyon's original mentor, Michael Hackman, died tragically this past summer, Randy was asked to step in and there was no hesitation in his response. "Senior year is already a stressful time for teens," Randy states, "but the impact of COVID coupled with the sudden loss of a trusted friend could have had a tremendous impact on Keyon. It was an easy decision for me to help him on this important journey."
Randy and Keyon try to touch base weekly – by phone or in person – and attend the monthly Launch meetings together, first in person and recently virtually due to COVID restrictions. Randy looks forward to their weekly calls, where they catch up on what each has done over the past week, challenges that they have had to face and good things that have happened. They also talk about the decisions that Keyon will make during this important year that impact his future – whether to go to a trade school where he can develop his passion for doing things with his hands, such as carpentry or automotive repair, or whether to go to a 2-year or 4-year school. Regardless of the decision that Keyon will make, he knows that Randy will be there to support him along the way.