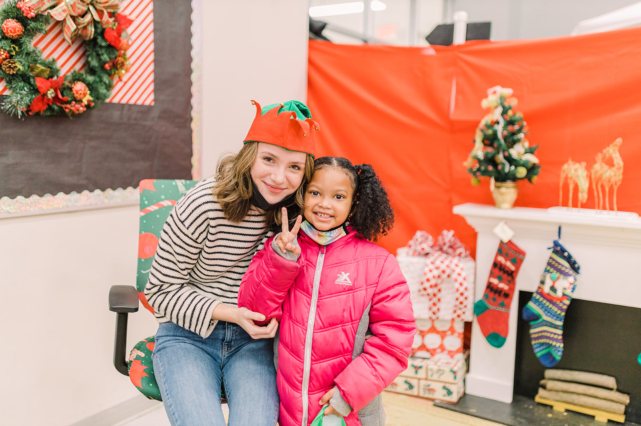 Christmas Toy Store 2021
The Foundation hosted its 12th Annual Christmas Toy Store at Chester Charter Scholars Academy on Saturday, December 18th. Over 3,700 brand new toys were donated along with 500 new books, 45 new bicycles and 150 new coats, while 250 volunteers came together to make the event possible for 500 Chester children.
The Toy Store event included Cookies and Hot Chocolate with Mrs. Clause, Christmas Story Time, Arts & Crafts, Letters to Santa, a 360 degree Photo Booth, Photos with Santa, a Bicycle Raffle, a Coat-Away and of course, a bag full of wrapped gifts for each child. There was even a giant tent set up with thousands of small gifts that children could choose for their mom, dad, teacher or grandmother~The GIft of Giving Tent.
Thank you to each and every one of you who supported us this Christmas season by donating toys or funds for the purchase of toys, or by volunteering to decorate, shop for individual children, wrap gifts, serve hot chocolate, or any one of dozens of other needed services.
We are so grateful for the increasing amount of support we receive every year! We're especially grateful for the remarkable number of people who volunteered who had never heard of the Foundation prior to this year, and for the incredible number of people who served with their coworkers! The word is spreading and we couldn't be happier about it!
The amount of love and support we received in putting this event together was beyond words. We felt so blessed to have so many volunteers come out to help us create a Christmas experience for families to remember. Special thanks to Katie McFadden whose vision and artistic talent transformed an ordinary parking lot into Christmas Magic. A special thank you also to Hazley Builders for supporting our Toy Store for the 4th year in a row. We're so grateful to Hay Sealcoating, West Chester Mulch, and the West Goshen Police department who donated 78 bikes to be raffled off throughout the day.
None of this could have happened without our Volunteer Coordinator, Susan Krause, who kept track of over 200 volunteers that it took to pull of this year's Toy Store! We are most thankful for the continued support from Christ Community Church and the countless number of volunteers who helped us all day on Thursday and Friday to sort the toys, shop for the children and wrap the gifts. We also want to acknowledge the tremendous support we received from Monkey Fish Toys, West Chester and the continued support we receive from the Chester City Firefighters, Local 1400 who supplied 174 smoke detectors to our families. It was truly "all hands-on deck" and we appreciate each and everyone of you more than we can say.
And last but not least, a very special thank you to our high school students. Your ongoing efforts, fundraising, and sacrifice of your personal time really brought together our toy collection and in turn helped make the toy store a huge success.
See below for more images from our Toy Store!
Special Thank You
Hazley Builders
Goebel Cabinetry
American Retail Supply
MrGiftWrap.Com
Applied Controls
Chester Charter Scholars Academy
Philadelphia Union
Katie McFadden
Susan Krause
Hannah Ward
Melissa Venuto
DaVita
Monkey Fish Toys, West Chester
Truist Bank
Christ Community Church
City of Chester Bureau of Fire
Scott Belmonte
Partners in Outreach
Hay Seal Coating
West Chester Mulch
Westminister Presbyterian Church
New Hudson Facades
Coho Partners
Widener University