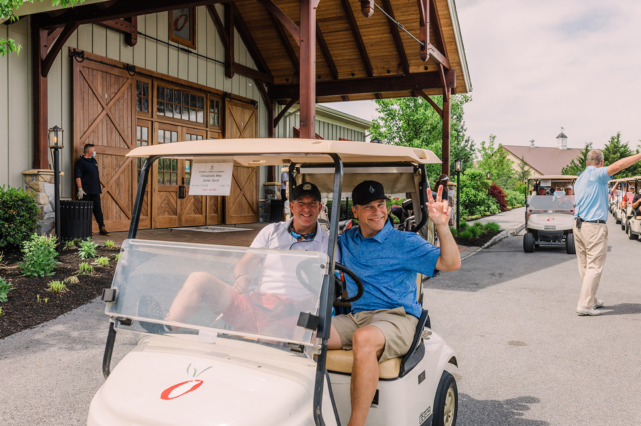 11th Annual Golf Outing
The 11th Annual Golf Outing was held on Monday, May 17th, we could not have asked for a better day. Blue skies, plenty of sunshine and a great deal of fun!

This year Applecross Country Club out did themselves as they hosted over 130 golfers who came out to support the Foundation and help raise money for Camp Lionheart and RISE Camp. We are overwhelmed with the amount of support this year and so grateful to everyone who came out to participate. It was a fun day had by all with golfing & refreshments.

We are especially grateful to both Steve Natalie and Dan Knisley. Without them this day would not have been possible. We would also like to give a special shout out to our premier sponsors, Goebel Cabinetry, Hoey Investment's, UBS Financial Services, Pillar Real Estate Advisors, Arthur Hall, Land Services and Rick Merrell. It is because of these generous donations and the support of many others, that we are able to provide a fun and enriching summer camp to the children of Chester.

The day ended with the awards ceremony and a wonderful buffet dinner. Dinner was followed by one of our Launch graduating seniors, Ms. Lay'La Harmon, who was the first recipient of the Andrew L. Hicks, Jr. Foundation Launch Scholarship! Lay'la spoke to the crowd about her experience with the Andrew L. Hicks, Jr. Foundation and how the foundation had shaped her into the person she is today.

Thanks to everyone who came out to spend this special day with us. We are so appreciative of all of you and for all of the support that you continue to show the Foundation.