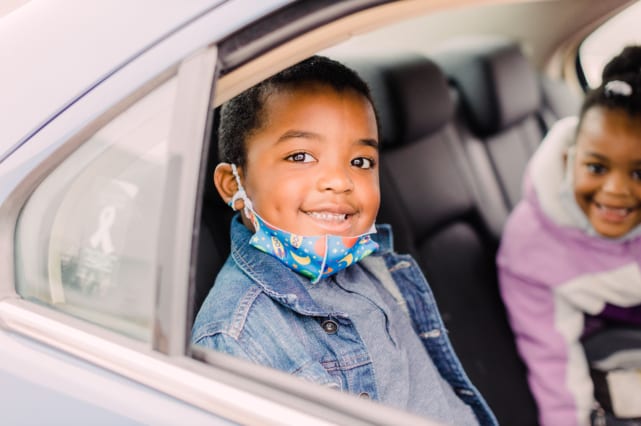 Christmas Toy Store 2020
The Andrew L. Hicks Jr. Foundation put on it's 11th Annual Christmas Toy Store in Chester, PA on Saturday December 12th. It was certainly an interesting year trying to plan a safe Toy Store Event in the middle of a pandemic, but thanks to countless volunteers and dedicated staff we were able to make it happen.
Over 4000 new toys and books were collected for this year's event. This enabled us to bring joy to 453 children of Chester. This is the most toys we have collected to date. We thank each and everyone of you who supported us this Christmas Season. Four high school/college students were instrumental in collecting and storing the toys during the Toy Drive: Nancy McSwain, Pierce Nush, Mary DeRosa, Anna Tooke and Justin Maratea.
The pandemic caused our event to look different, but it did not take away from the fun. Families were instructed to remain in their cars as they drove through a Christmas Wonderland on their way to Santa's workshop. Along the way children were safely handed take-home arts & crafts and Letters to Santa. Of course, it would not be Christmas without Santa himself who waved to the families as they drove by. When it was time to drive into Santa's workshop, smiles were huge as the children looked around to see Santa's sleigh and giant presents. Not to mention those elves who were ready and waiting to load cars with bags of toys all wrapped and ready to place under the Christmas tree. The drive-thru ended with a cup of hot cocoa complete with all the trimmings and a bag of freshly baked cookies.
The amount of love and support we received in putting this event together was beyond words. We felt so blessed to have so many volunteers come out to help us create a Christmas experience for families to remember. Special thanks to Katie McFadden whose vision and artistic talent transformed an ordinary parking lot into Christmas Magic. A special thank you also to Hazley Builders for supporting our Toy Store for the 4th year in a row. We're so grateful to Hay Sealcoating, West Chester Mulch, and the West Goshen Police department who donated 78 bikes to be raffled off throughout the day. We are also thankful to Heather Kirkpatrick and Jeff Rowe for donating 5 Christmas Trees which were raffled off to families, to Bob Forrester of Chester Community Charter School who supported us in our vision and Steve Belmonte for providing winter coats to our families in need.
None of this could have happened without our Volunteer Coordinator, Susan Krause, who kept track of the 220 volunteers that it took to pull of this year's Toy Store! We are most thankful for the continued support from Christ Community Church and the countless number of volunteers who helped us all day on Thursday and Friday to sort the toys, shop for the children and wrap the gifts. We also want to acknowledge the tremendous support we received from Monkey Fish Toys, West Chester and the continued support we receive from the Chester City Firefighters, Local 1400 who supplied 174 smoke detectors to our families. It was truly "all hands-on deck" and we appreciate each and everyone of you more than we can say.
Special Thanks
Katie McFadden – Design & Decorating Coordinator
Hazley Builders – Prop Building
Chester Community Charter School – Venue Host
Christ Community Church – Sorting, Shopping and Wrapping Support
Monkey Fish Toys – Toy Selection
Susan Krause – Volunteer Coordinator
Hay Sealcoating & West Chester Mulch – Bike Donations
Julie Finnegan- Hot Chocolate Fixings
Athena Pennington – Gift of Giving
Melissa Venuto – Costumes and Letters to Santa
Kathy Leiz – Candy Canes
Cookie Baking – Struebing Family, Jill Fay, Hugh McIntye, Linda Morrison
Chester City Firefighters Local 1400
---