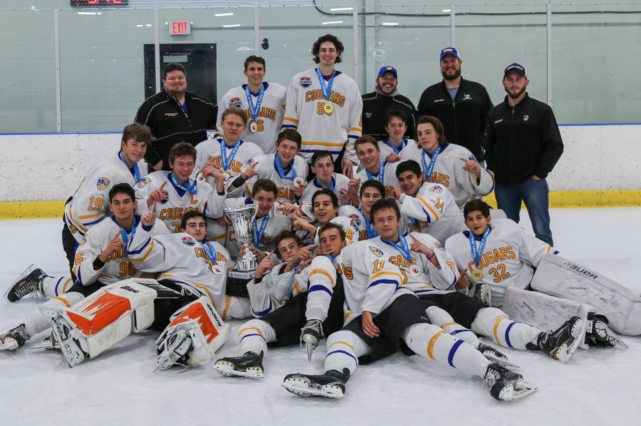 Hicksie Cup 2017
The 2017 Andrew L. Hicks, Jr. Memorial Hockey Tournament, more affectionately known as the Hicksie Cup, concluded on Monday October 2, with Downingtown East dominating Henderson 6 to 0 to win the Championship Game and take home the Hicksie Cup trophy for the third year in a row.  Downingtown East players and coaches also received individual Foundation gold medals.  Henderson players and coaches received Foundation silver medals.
The Consolation game, played earlier Monday evening, was won by Rustin, 6 to 5, in a very close game against Downingtown West.  Although a preseason tournament, the Hicksie Cup, brings out each team's early season best as the fight for the coveted silver Hicksie Cup trophy and local bragging rights becomes very competitive as each of the eight teams gets ready for their season openers.
The tournament, held at Ice Line in West Chester, began with eight high school teams competing in three nights of preliminary round play on Friday, September 22, Monday, September 25, and Friday, September 29 to determine which teams would play in the Championship and Consolation Games.  At the conclusion of the first three nights of play, the two teams advancing to the Championship Game as well as the two teams advancing to the Consolation Game were determined based on overall wins and losses, head to head results, and point differential. This year's tournament included teams from West Chester Henderson, West Chester East, Rustin, Conestoga, Downingtown East, Downingtown West, Unionville, and Great Valley.
The 2017 Hicksie Cup raised over $7,000 for the Andrew L. Hicks, Jr. Foundation. It is only because of the tremendous support the Foundation receives from Ice Line, the eight high school hockey clubs, the referees and the time keepers, who donate their time, as well as the volunteers who sing the National Anthem, run Chuck-A-Puck and the for-fun-only player shoot out, that this event is even possible. In addition, this year's tournament was sponsored by Allstate – Lisa Wicka and Parisi Speed School.
The money raised from this year's tournament will be used to underwrite Foundation programming including the 2018 Learn-To-Skate event which will be held at Ice Line in April. The Foundation expects to bring approximately 100 kids from Chester to Ice Line to spend an afternoon learning how to ice skate with 100 of the high school hockey players that participated in the Hicksie Cup.
Special Thanks
Ice Line
All State – Lisa Wicka
Parisi Speed School
Jim Anderson and all referees and time keepers
Willow Dysard, Soloist