Warrior Guides/RISE Community Service Day 4/11/15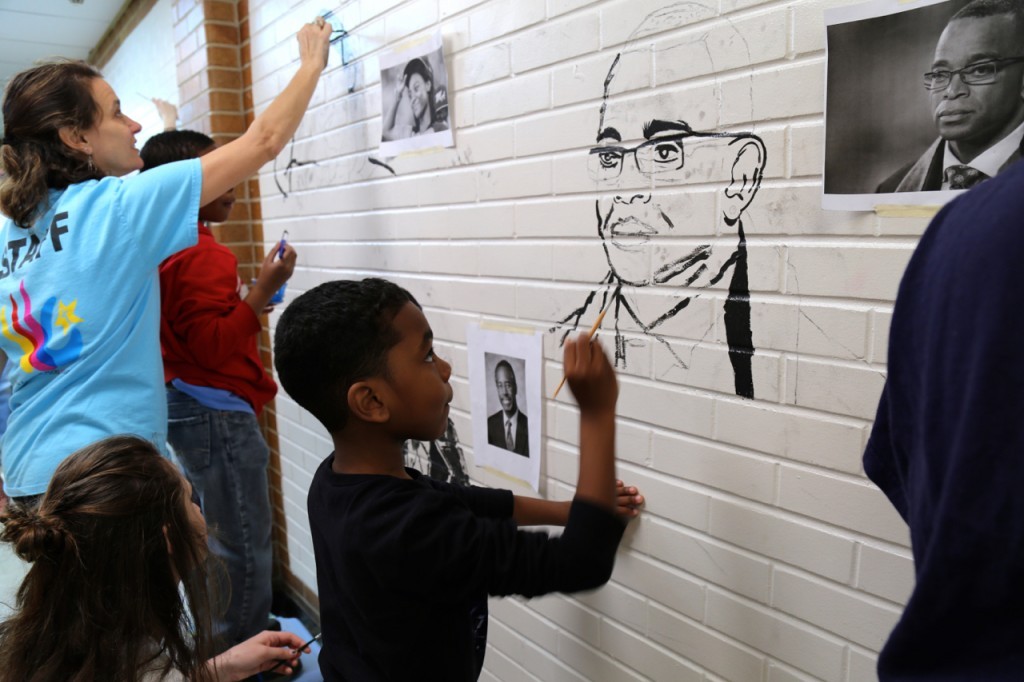 The Warrior Guides joined hands with the RISE teen leadership development program to create the most productive Andrew L. Hicks, Jr. Foundation Community Service Day in Chester, PA to date.  230 people (half from West Chester and half from Chester) worked on Saturday, April 11th on four different projects at three different job sites throughout Chester and together they were able to make a huge impact on four different organizations.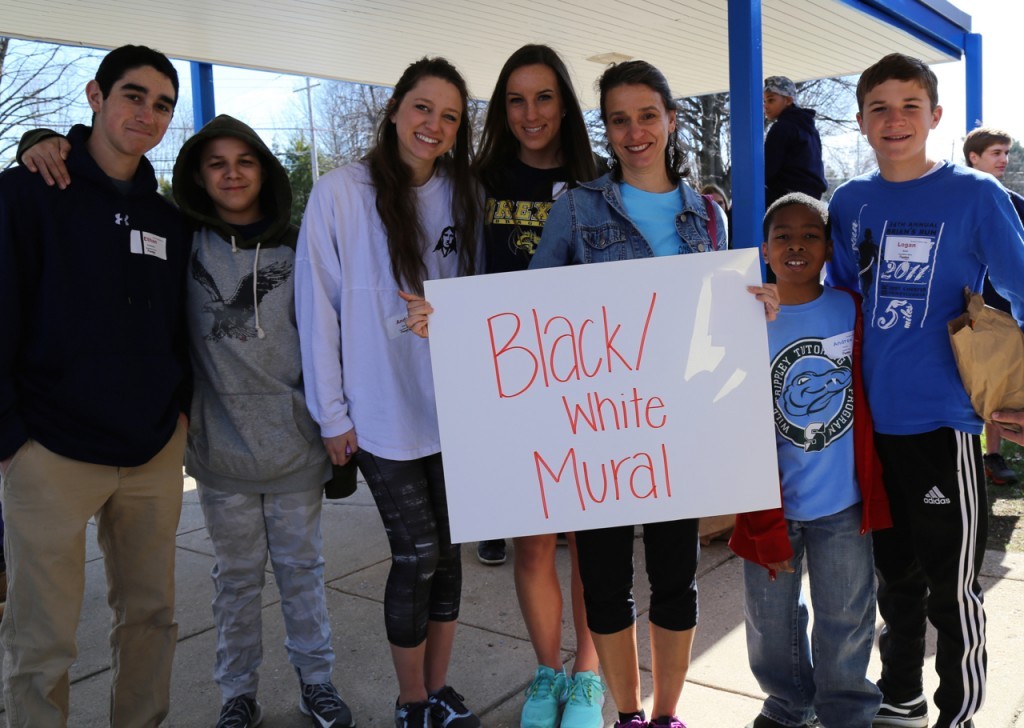 The Guides arrived at Toby Farms Intermediate School at 10:45am and by 11:00am they met up with their Chester Braves and were joined by the students who are just finishing up their first year of RISE, as well as the new Year 2 RISE students.  The kids received name tags which indicated on them the project that they were assigned to work on.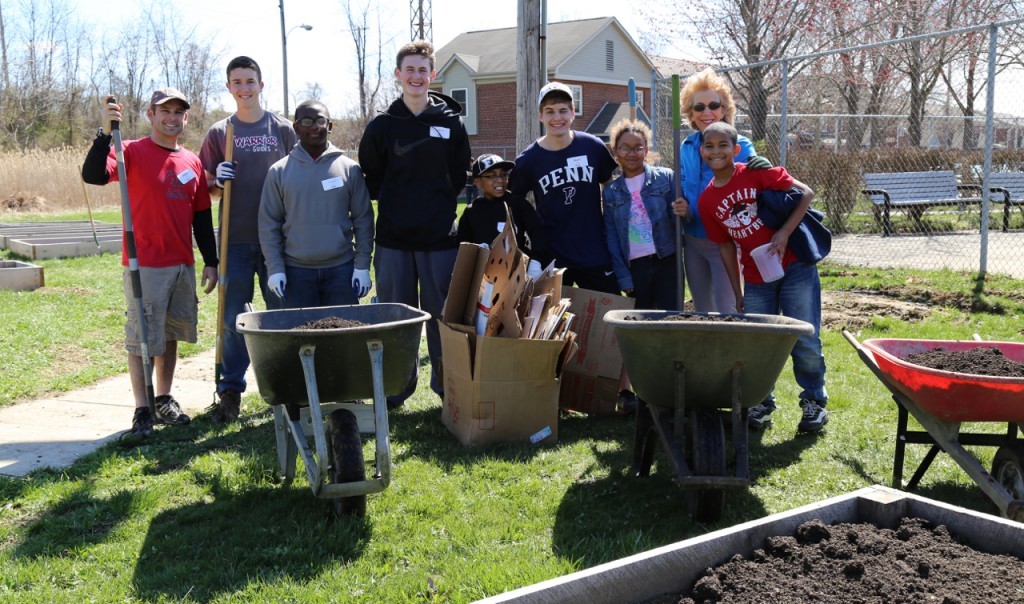 The first project was The Chester Garden Project located at the back of the Ruth L. Bennett Homes public housing development in Chester, PA.  A group of 32 kids and 7 Adults were bused to the job site with wheel barrows, shovels and iron rakes in tow.  There they were met by Terrence Topping-Brown, Community Farm Manager for Urban Tree Connection, who is in charge the farm.  Our group filled raised beds with soil and they prepared a site for blueberry plantings which will be done later this month.  The beds will be home to produce throughout the summer months and the cleared space will be the future site of a greenhouse to be constructed sometime in the fall.  One of the main objectives of Urban Tree Connection is to build a sustainable farm system and our work was vital to the development of their food system.  They thought our group was extremely productive.  We were engaged and motivated and our efforts and energy were so greatly appreciated by the Ruth Bennett Community Farm.  Terrence is using a tumblr account to document all the things happening at the farm.  To read the updates, please click here.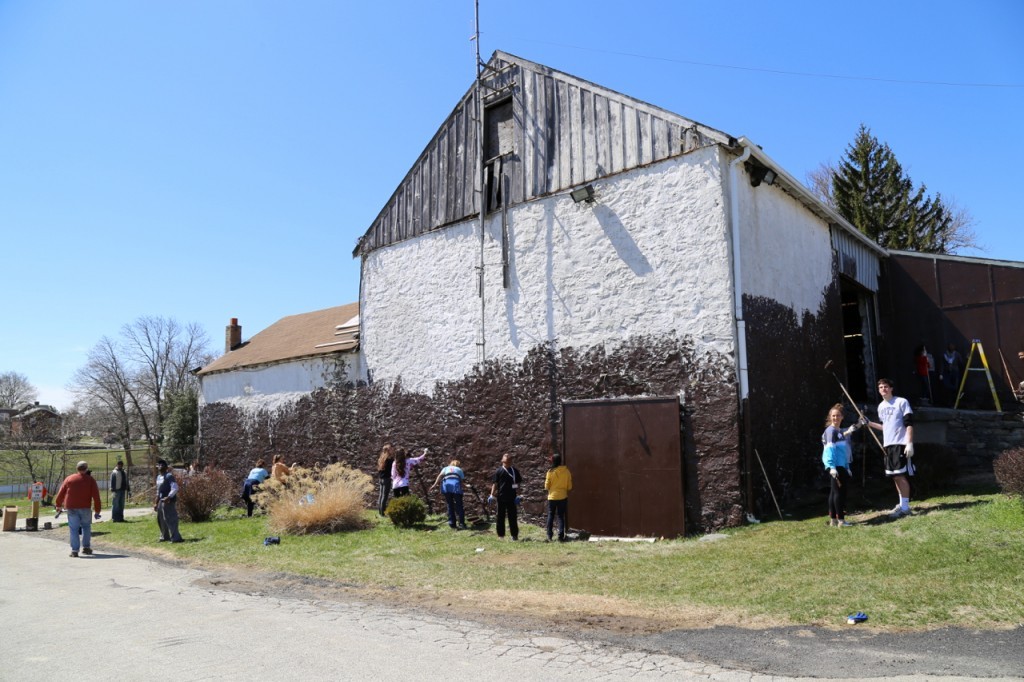 The second project took place at Chester Park.  Our group of 45 students and 5 adults worked with Chester Parks and Recreation, under the direction of Duane Lee, to paint a barn in the park.  The barn was sorely in need of a new coat of paint so the kids paired up and got to work and put a fresh paint on the barn.  The did take a short break for lunch but worked from 10:30am until 1:00pm and then ended their day with a walk on the beautiful trail that runs beside the Chester creek.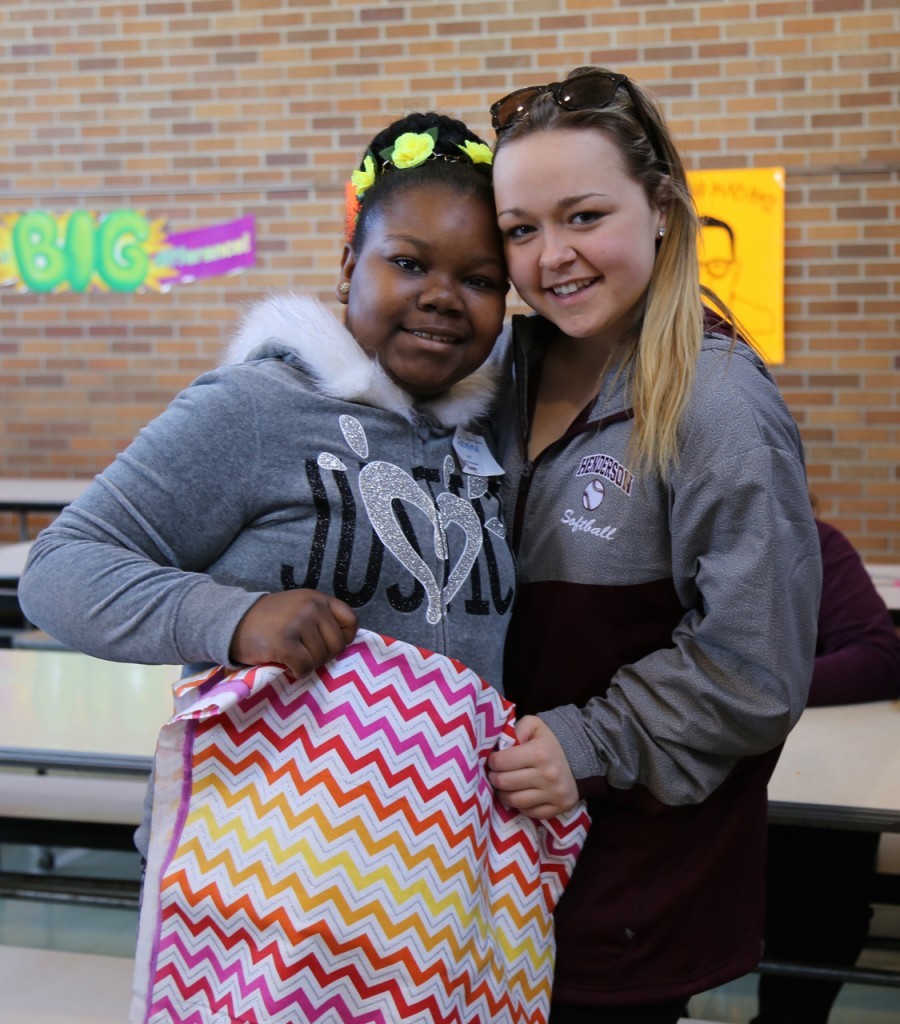 The third project was for the Center for the Blind and Visually Impaired.  The Center is closed on Saturdays, so the kids stayed at Toby Farms Intermediate School and worked on tables in the cafeteria.  21 students worked with 3 adults to create no-sew fleece lap blankets for 30 clients of the Center for the Blind and Visually Impaired in Chester.  Three of the Chester students who worked on this project have now dropped off this gift to the blind adults.  The blankets were made with love and we hope they will remind those clients that they are thought about, cared for, and not forgotten.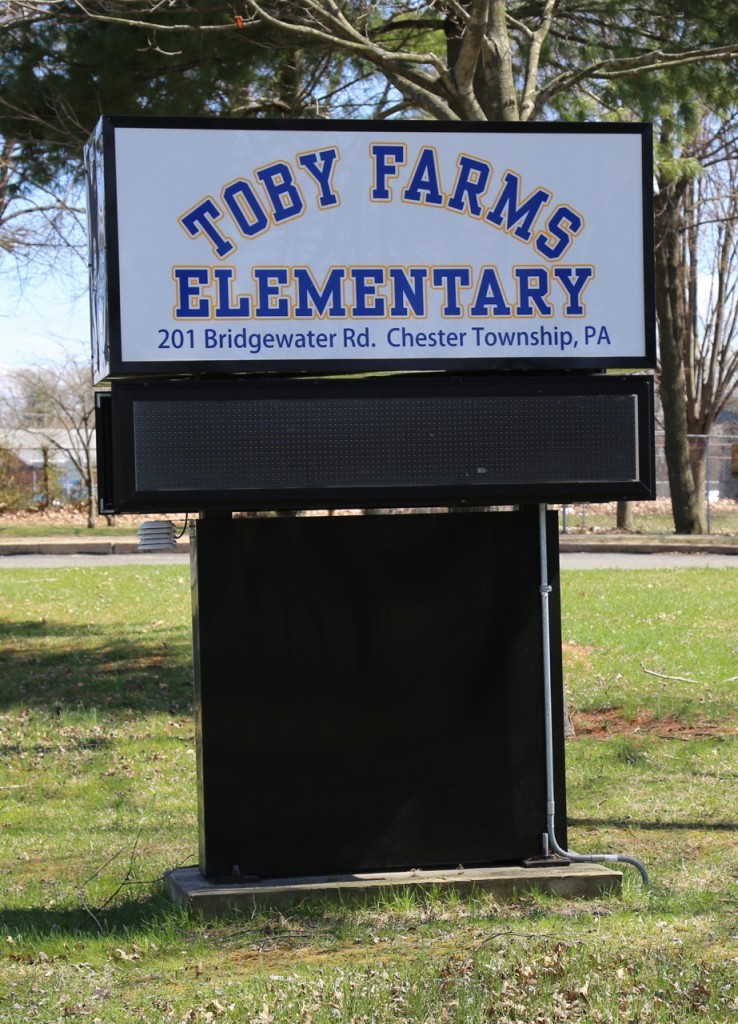 Our fourth project was the biggest one of all.  Our 96 students and 19 adults were spread throughout the different areas of Toby Farms Intermediate School and were charged with the task of decorating the building.  When they arrived at their assigned areas, they were greeted by a Foundation staff person who told them the theme of the hallway, gave them a vision for what it should look like when they were finished, and provided them with all the materials to make that vision a reality.  The 5th grade hallway's theme was "Dreams".  Those students made dream catchers and hung them from the ceiling and then cut out inspirational quotes and taped them to the walls of the hallway.  The 6th grade's theme was "Destination:  Success".  The halls were decorated with maps and airplanes and other images of flight and model airplanes were even hung from the ceiling.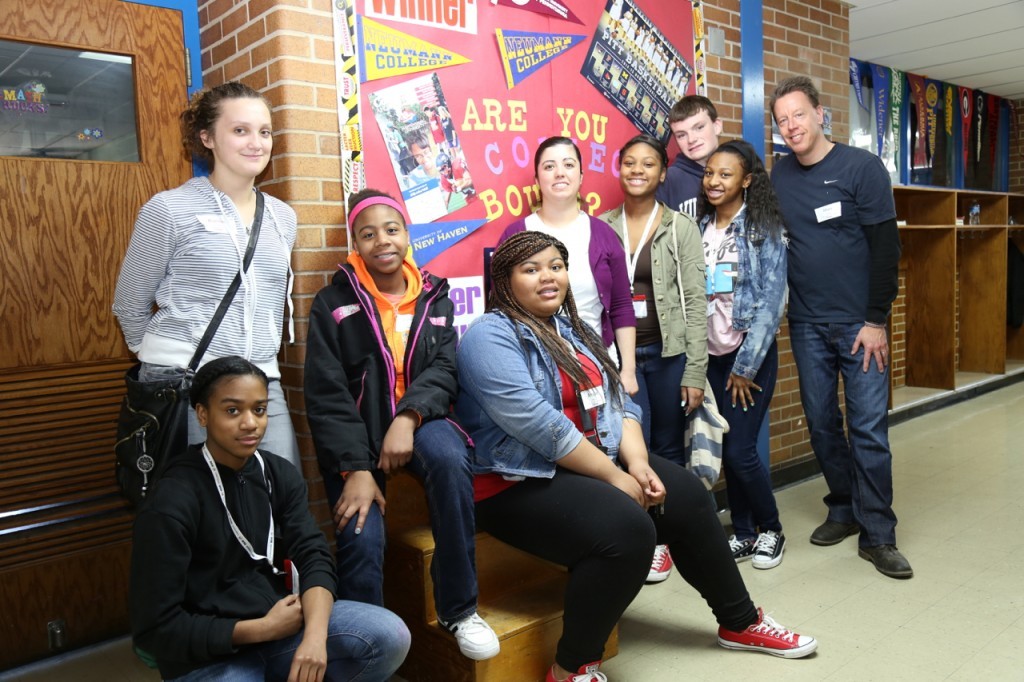 The 8th grade hallway's theme was, "Are you college or career ready?"  The hallway was filled with posters representing different career choices that do not require a college education as well as posters and banners representing over one hundred different universities from across the US.  Every branch of the US Military was represented as well with dynamic posters of fighter jets, paratroopers, navy ships and such.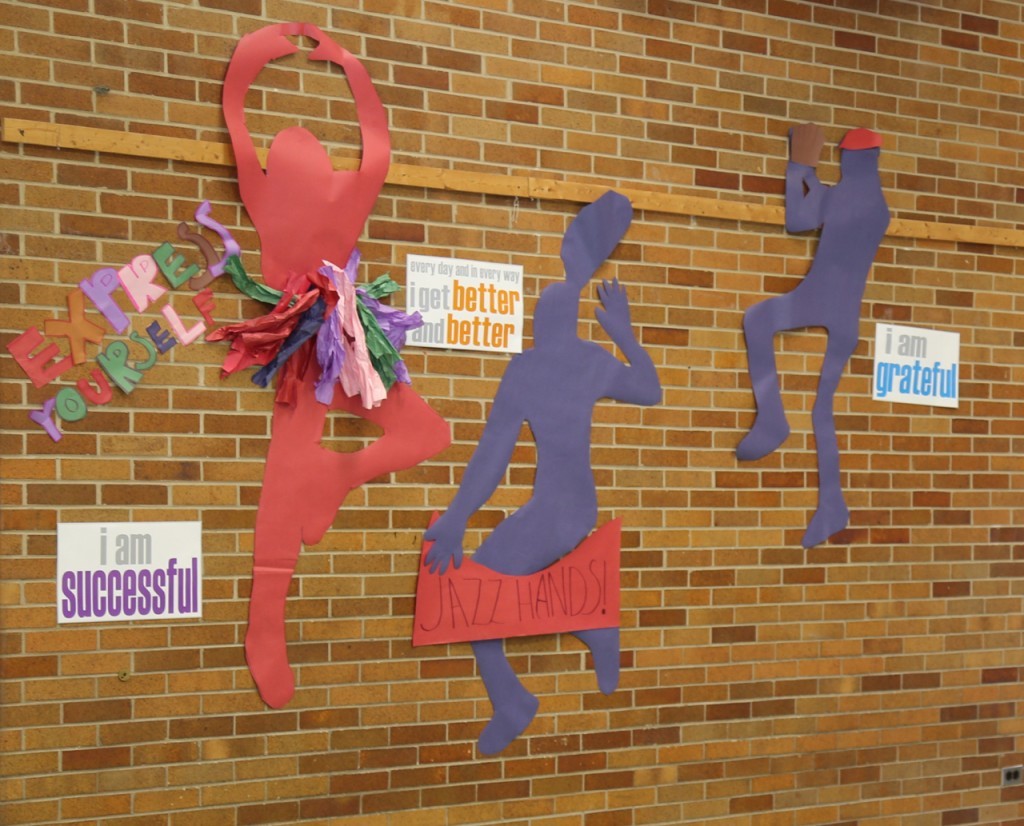 In the gymnasium, students laid down on giant sheets of colored bulletin board paper in various different poses signifying different sports positions.  They traced out each others' silhouettes and then cut them out and decorated them and then hung them on the walls of the gym.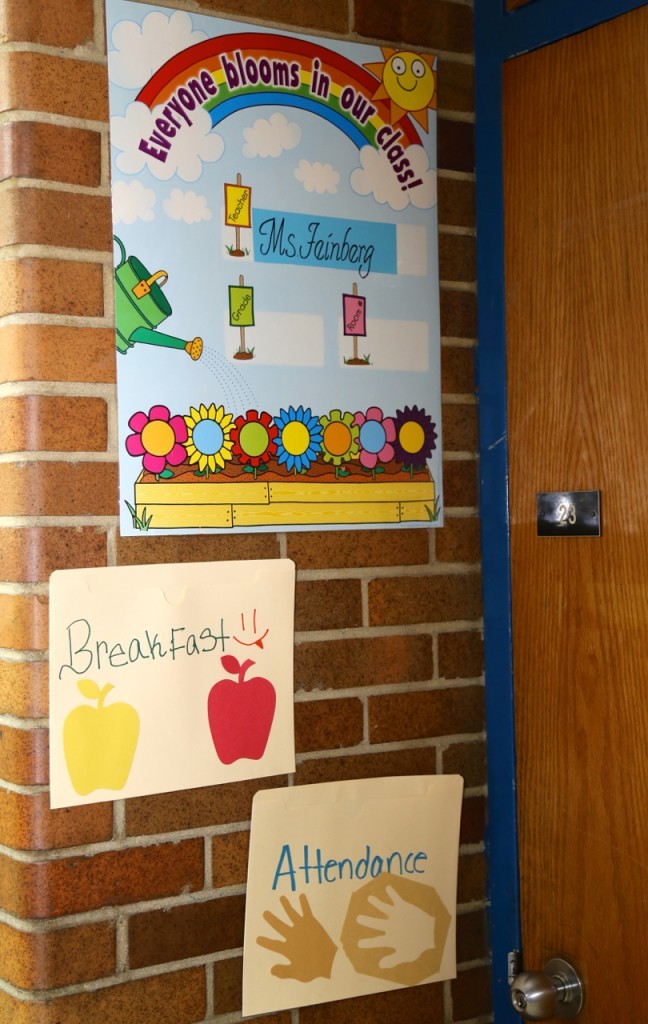 Every teacher's door was given a new bright and colorful sign with his or her name on it along with the room number, and outside every teacher's door was a new beautifully designed Attendance Folder and Breakfast Folder.  In addition, every bathroom received brand new signs and inspiring posters and decorations as well.  We have to thank the the Mary C. Howse of Reps (West Chester Area School District Elementary School) for making up really beautiful and professional posters for Toby Farms.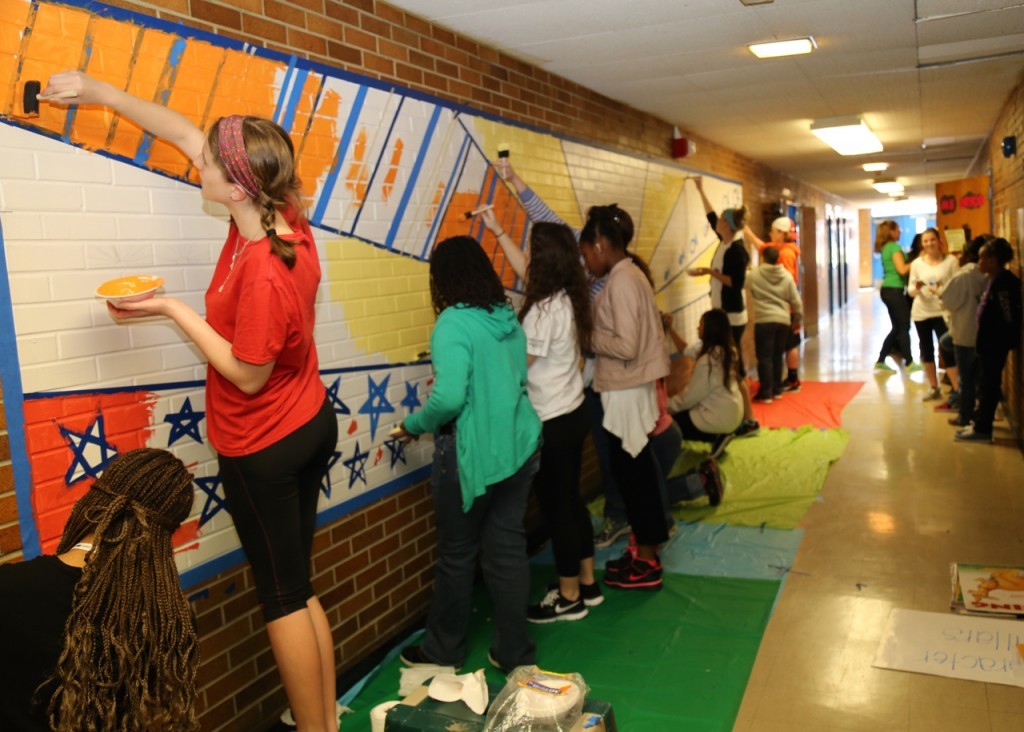 Our two most gorgeous projects were murals that were painted by the kids as a gift to the children of Toby Farms.  Two Henderson High School seniors, Sophie Burgess and Carly McFadden designed a 20′ x 5′ mural and invited both Henderson and Chester students to paint the mural.  Sophie and Carly laid it out and taped the design to the wall, and then the kids grabbed paint brushes and paint and went to work, and it turned out to be a gorgeous mural of bright colors and creative design.  Thanks Sophie and Carly!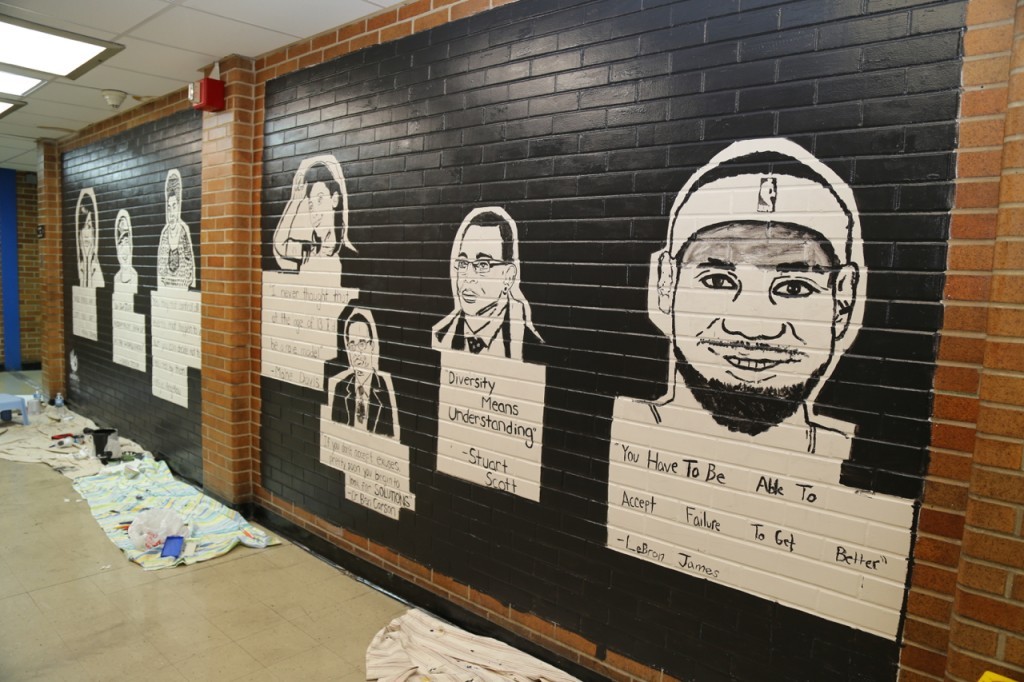 Finally, the masterpiece of the day was a black and white mural of current day, Black American role models.  This 20′ x 6′ mural was designed and sketched by artist Steve Mogck, but mostly painted by Chester 5th and 6th grade students  who are in the Warrior Guides program, their Henderson high school Guides and a few Chester RISE students.  Each person represented on the mural has one of their quotes written out beside their picture.  The hope of the Andrew L. Hicks, Jr. Foundation is that the images and wisdom of these model citizens will inspire Toby Farms Intermediate School students for years to come and remind them of their importance, potential and value.  We hope they will always know that the West Chester community loves and cares about them.
Special Thanks:
Fulton Bank
Ms. Victoria Pressley, Principal, Toby Farms Intermediate School
Ms. Tonya Broussard, Vice Principal, Toby Farms Intermediate School
Ms. Shanna Pryor, Social Worker, Toby Farms Intermediate School
Mr. Steve Mogck, Professional Artist  www.stevenmogck.com
Ms. Kelly Byrne, FOX Channel 29 News
Mr. Terrence Topping-Brown, Community Farm Manager for Urban Tree Connection
Mr. Skip WIener, Urban Tree Connection
Chester Housing Authority
Mr. Duane Lee, Chester Parks and Recreation
Center for the Blind and Visually Impaired
Ms. Sophie Burgess, HHS Artist
Ms. Carly McFadden, HHS Artist
Krapf Bus Company
Capriotti's of West Chester
ACE Hardware of West Chester
Ms. Cheryl Chaborek and the Mary C. Howse of Reps, Mary C. Howse Elementary School
Chester County Intermediate Unit