Learn-To-Skate 3/15/15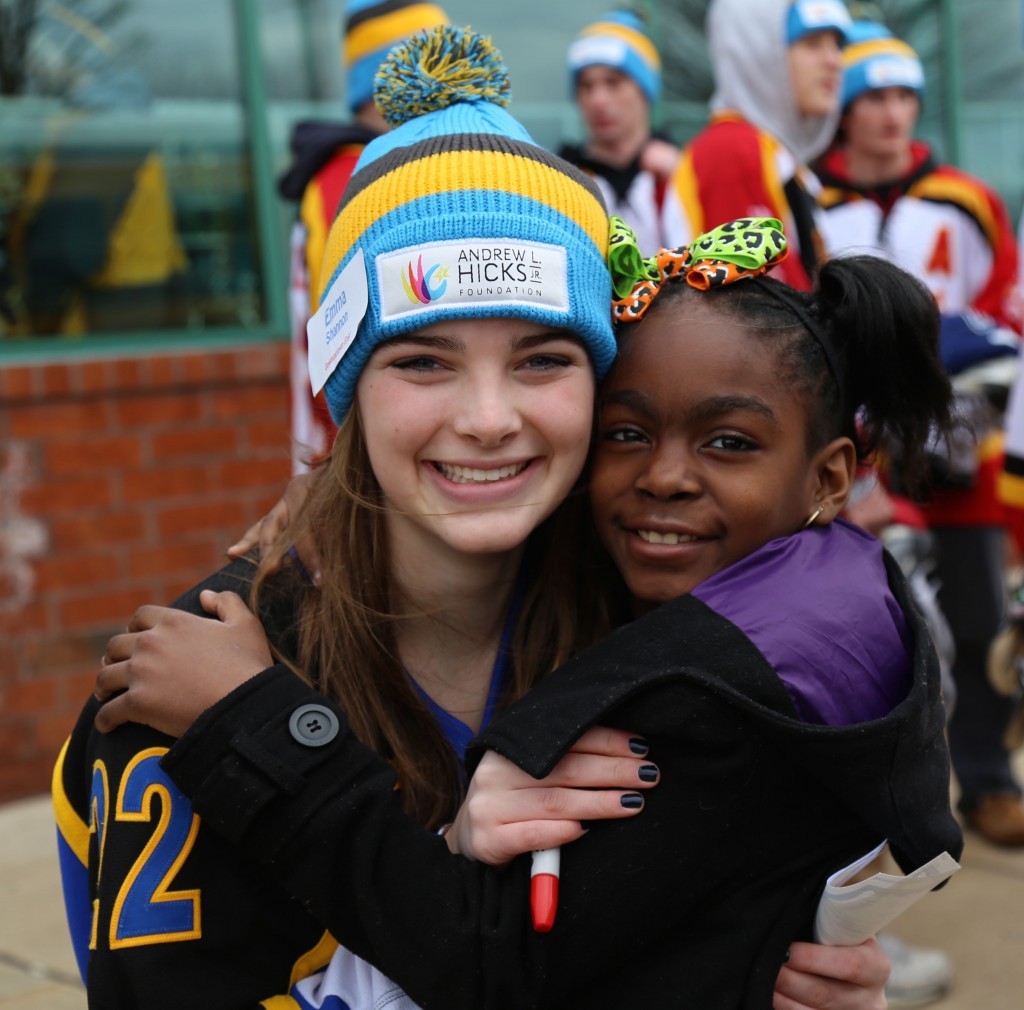 Emma Shannon, a sophomore at Downingtown East High School, made it her senior project to organize the 2015 Learn-To-Skate event, held at Ice Line in West Chester on Sunday, March 15th.  Emma invited both male and female hockey players from Henderson, West Chester East, Rustin, Downingtown West, Downingtown East, Great Valley, Bishop Shanahan, Unionville, and Downingtown East.
Instead of wearing the traditional sky blue Foundation STAFF shirts, the kids wore their school's ice hockey jersey.  Therefore, in order to show that they were volunteering with the Andrew L. Hicks, Jr. Foundation, each skater donned really colorful Foundation ski hats.  Eighty five Chester children in grades 305 were bused to Ice Line and upon arrival, they were matched up one-to-one with the hockey player for the afternoon.  Children exited the bus with great big smiles on their faces, excited about the opportunity to learn how to ice skate.
The high school students were warm and welcoming and took their partner to get their skates.  Some even brought one of their old jerseys to give to their Chester friend to keep!  Of course, the Chester kids put them on immediately and skated all afternoon advertising different high schools, colleges, hockey camps or hockey tournaments!  The children exchanged their sneakers for either hockey skates or figure skates and then their high school friend sat them down and laced up their boots. The pair headed to the ice with a bit of trepidation, but really enthusiastic, often holding hands or just holding on to each other.  Most of the Chester children had never been at an ice skating rink before and were attempting to skate for the very first time.
Each high school skater was careful to protect his or her child while they got their bearings and began to shuffle across the ice.  Some kids took to it right away and in no time they were pushing off with both legs and motoring across the rink.  Others were a bit more hesitant and were leaning hard into their high school friend or even just standing up and being pulled from the front or pushed from behind!
When the Chester kids got tired, or if their ankles and shins were starting to hurt, they were able to take breaks and sit down and talk.  They were all treated to a great dinner of baked ziti, pizza, caesar salad and lemonade.  Then it was back on the ice for another round of skating.  It is amazing how many kids truly learned how to skate that afternoon.  Surprisingly, a few even managed to learn how to skate backwards.
Dinner was followed by delicious vanilla and chocolate cake which everyone loved!  When there was only 15 minutes left, many of the pairs took a chair out on the ice and the Chester kids were pushed around at great speed, enjoying the breeze as they flew across the ice.  The afternoon went really quickly and then before long the kids were getting back on the bus to Chester.
So many kids had such a great time thanks to Emma's efforts and every single high school ice hockey player had a rewarding and really meaningful afternoon.  It is always so amazing how friendships can form so quickly and how much these kids care about each other right away!
Special Thanks:
Ice Line
Krapf Bus Company
Tuttle Marketing
Booker T. Washington Community Center
Henderson Ice Hockey
Downingtown West Ice Hockey
Unionville Ice Hockey
Great Valley Ice Hockey
West Chester East Ice Hockey
Conestoga Ice Hockey
Bishop Shanahan Ice Hockey
Downingtown East Ice Hockey
Rustin Ice Hockey