Warrior Guides Field Day 04/13/13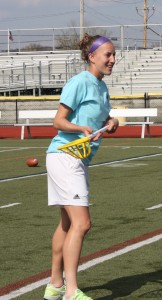 WCU senior and LAX team captain, Theresa Giunta, organized our most recent Warrior Guides event.  She recruited the West Chester University Athletes in Action group to help her coordinate an athletic event on Saturday, April 13th.  The athletes, mostly WCU football players and the Women's LAX team, put together Field Day at Henderson High School.  The Braves met their Warrior Guides at J. Oscar Dicks Stadium in front of the school and had the chance to choose the three activities out of five that they wanted to participate in.  Their choices were football, basketball, field games, golf or lacrosse.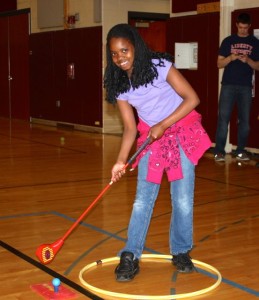 Each station was manned by WCU athletes, except for golf.  That area was covered by Jeff Middleton from The First Tee, which uses the game of golf to promote positive youth development.  The other sports were run by the WCU students.  The children had the chance to spend 25 minutes at three different activities.  Many kids tried lacrosse and golf for the very first time.  They got great instruction on how to hold the equipment, how to swing or throw or cradle.  It really was a great experience.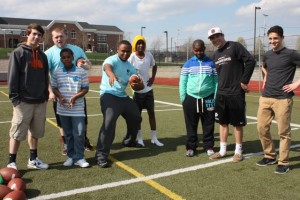 Many of the Chester children enjoyed running and playing on the turf for the first time.  They had the chance to play quarterback, or to participate in a giant kickball game.  It was a gorgeous sunny day and everyone enjoyed being outdoors.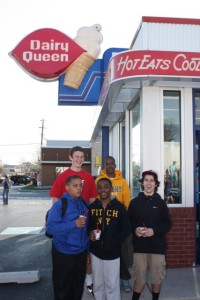 After a few hours out there, the kids had pizza together in the away team stands and then all walked down as a group of over 200 to Thomas' Dairy Queen on the corner of E. Gay Street and Montgomery in the Borough of West Chester.  Everyone enjoyed Blizzards together and then walked back to Henderson.  It was such a fun day and everyone got a lot of exercise.  The friendships between the Henderson kids and their Chester Braves are really deepening.  We look forward to Geocaching together in May!
Special thanks:
West Chester University Athletes in Action
Thomas' Dairy Queen
Krapf Bus Company
The First Tee