Hicksie Cup 2013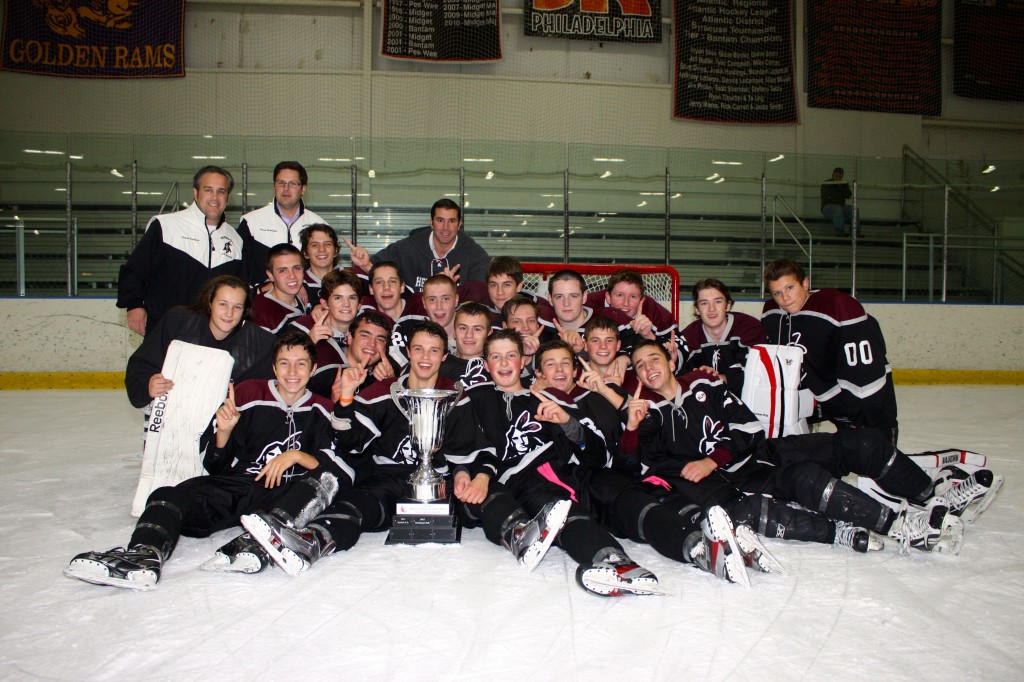 The 4th annual Andrew L Hicks, Jr. Memorial Ice Hockey Tournament took place on Monday October 7th and Monday October 14th at Ice Line Quad Rinks in West Chester, PA.  The preseason hockey tournament featured the high school hockey teams from West Chester Henderson, West Chester East, West Chester Rustin, and Conestoga battling for the Hicksie Cup trophy.  The two night tournament is played in memory of Andrew and his love for the sport of hockey.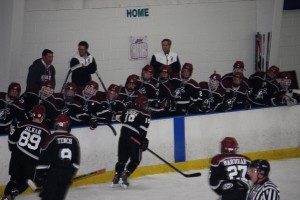 The first round of the tournament had defending champion West Chester Henderson hosting Conestoga in the early game at 6:30pm.  Henderson got out to an early lead and then survived a late Conestoga come back with the final score 6 to 3.  The second game of the night had West Chester Rustin playing West Chester East.  Rustin and East each played a very physical game.  After 3 periods of regulation time the score was tied at 2 all.  At about half way through the 5 minute overtime period, West Chester Rustin scored the winning goal, earning the hard fought victory.  The winners of the first round games punched their ticket to the championship game the following Monday night while East and Conestoga were set to play in the Consolation game.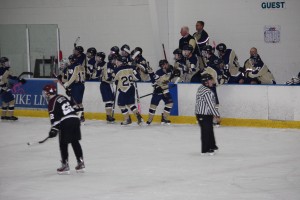 The second round of the tournament took place on Monday October 14th.  The Championship game was played at 6:30pm.  Arch rivals Henderson and Rustin played the championship game with a very high level of intensity and effort.  When the final horn sounded, West Chester Henderson came out on top with the score of 6 to 3.  For the second year in a row, the Henderson hockey players were able to hoist the Hicksie Cup and skate it around the rink for their loaded student section to see and appreciate.  The puck for the Consolation game was dropped at 8:15pm.  Conestoga and East had a very strong battle for third place with East getting the better of Conestoga  5 to 2.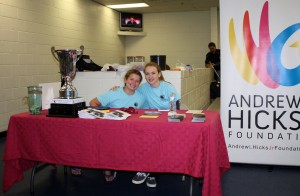 Due to the effort of Foundation volunteers and the generosity of all the people that came out to watch the four games, the Foundation was able to raise over $1,650.00 from the hockey tournament.  All the proceeds from the tournament will go toward underwriting the 2014 Learn To Skate event that will be held in March 2014 at Ice Line.  The Andrew L. Hicks, Jr. Foundation expects to bring as many as 120 elementary school aged kids from Chester to Ice Line for a fun afternoon of ice skating, food, and friendship.  The kids that come to Ice Line will be paired up, one on one with a hockey player (boys and girls) from six or seven local area high school hockey teams.  Last year, hockey players from Henderson, East, Rustin, Bishop Shanahan, Downingtown West, and Conestoga participated as volunteers.
SPECIAL THANKS:
Henderson Ice Hockey Club
Conestoga Ice Hockey Club
Rustin Ice Hockey Club
East Ice Hockey Club
Ice Line
Jim Binns
Jim Anderson
Elizabeth Cottle
Jordan McCool
Debbie Gunn