Congratulations to Morgan Daugherty who is the 2013 recipient of the Andrew L. Hicks, Jr. Memorial Scholarship.  The award is a four-year scholarship totaling $10,000 ($2,500/year for up to 4 years).  Morgan has demonstrated an undeniable love for the children of the City of Chester and an uncommon enthusiasm for the work of the Foundation.  She got involved early with the Foundation and has been one of our strongest volunteers ever since, giving over 273 hours to serve the youth of Chester!  Morgan will be attending Boston College in the fall of 2013 and she is planning to major in Political Science.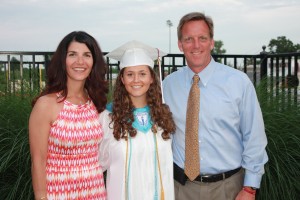 In order to qualify for this annual scholarship a student must:
Be a member in good standing of his/her Henderson High School senior class.
Have participated in the Henderson High School Boys Soccer and/or Boys Ice Hockey program for at least one full season during his/her high school career and also volunteered with the Foundation at some point OR volunteered for a minimum of 40 hours with the Foundation.
Have maintained a minimum of a 3.0 Grade Point Average.
Have been scheduled to graduate from Henderson High School in June 2013.
Have been accepted to and is planning to attend a four year college or university.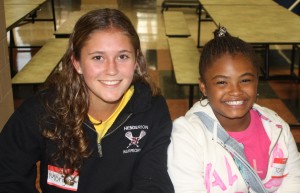 During our first year, Morgan volunteered with many of the Foundation events, but during our second year she chose to get more intimately involved by becoming a Warrior Guide and serving as an officer for the club.  She continued this service through our third year as well.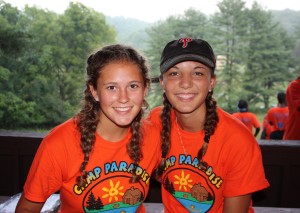 Morgan has also given so much of herself at Camp Paradise.  She has been a Camp Counselor for two consecutive years and is planning on returning this summer too!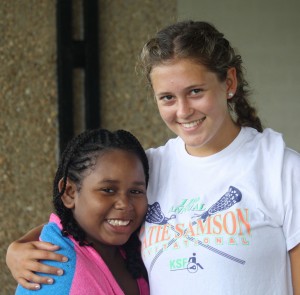 In addition, Morgan has done a separate senior project where she has represented the Andrew L. Hicks, Jr. Foundation to other schools and organizations in an effort to recruit volunteers for Foundation events.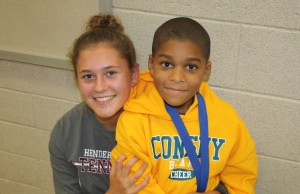 The Board of the Andrew L. Hicks, Jr. Foundation is so excited to be able to present this award to Morgan.  She is eligible to receive an additional $2,500 each year for the next three years as long as she maintains a 3.0 GPA and volunteers a minimum of 15 hours per year with the Foundation, or by participating in a minimum of 2 Foundation events between August 1, 2013 and July 31, 2014.  We are confident that Morgan will remain active in the Foundation's work.  We'll be praying for her as she continues to study at BC.  We love you, Morgan and we are thankful for all that you have done to recruit others to work beside us and to push the mission of the Andrew L. Hicks, Jr. Foundation forward.   Thank you for glorifying God and honoring Andrew as you have walked beside us for these past three years.