Hicksie Cup 2012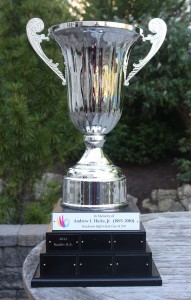 The Andrew L. Hicks, Jr. Memorial Ice Hockey Tournament, endearingly referred to as the Hicksie Cup, was played during the first two weeks in October.  The goal of the tournament is not to raise money for the Foundation, but rather to introduce the Foundation, its mission and the opportunities for volunteerism to the Ice Hockey community which Andrew loved.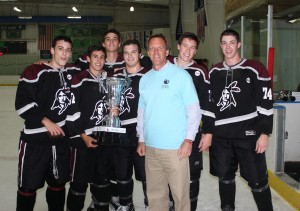 Although Rustin High School has held the Hicksie Cup for the past two year, Henderson High School was able to recapture the treasured trophy during the 2012 Andrew L. Hicks, Jr. Memorial Ice Hockey Tournament.  The battle, held over two consecutive Monday nights posed Henderson against West Chester East, and Rustin against Conestoga in Week One.  The winners of those two games, Henderson and Conestoga, went head to head on the second Monday night while WC East and Rustin played in the Consolation game.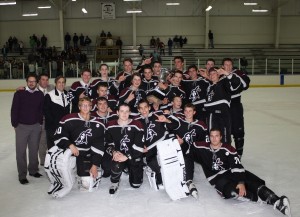 The Championship Game for the Hicksie Cup pitted Conestoga and Henderson High schools.  In front of a packed house, with enthusiastic fans of both teams supporting them, the teams brought their best game.  The Warriors took a quick 4-0 lead after the first period and cruised to a 8-1 victory.  That makes Henderson the champion for the third time in the last 5 years.  (The tournament was started before Andrew died and was renamed once the Andrew L. Hicks, Jr. Foundation took over the organization and execution of the tournament).  A young Conestoga team gave it a valiant effort in the losing cause but he veteran Warriors got it done!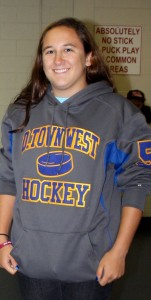 Net proceeds from the tournament ended up being about $1,800 which will go a long way towards paying for Learn-To-Skate 2013 which is scheduled for March 17, 4-6pm at Ice Line on Rinks 2 and 3.  The event, which will be a graduation project for Giulia DiSanto, senior and Lady Ice Hockey player at Downingtown West.  Giulia plans to invite the hockey teams from DWest, DEast, Henderson, Rustin, WC East and Conestoga to participate in Learn-To-Skate.  The Foundation will bring 80 children from Chester to Ice Line for the day  to learn from the area's best skaters!
The Andrew L. Hicks, Jr. Foundation is so thankful for the help we received from many adults in the West Chester area.
Special Thanks:
Ice Line
Henderson High School
Conestoga High School
East High School
Rustin High School