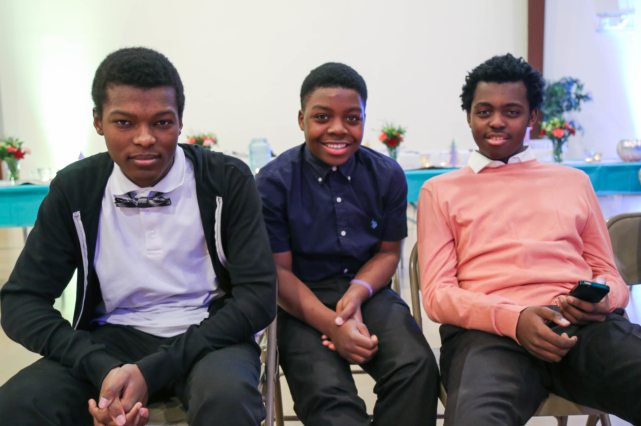 RISE January Social
Our RISE students attended a Winter Social on Saturday, January 27.  This event was a celebration, and a show of appreciation for all the hard work RISE students have demonstrated in the first half of the year.  The curriculum is challenging and expectations are high for all our participants. Students have committed to attend each week, listen, share, learn and grow. We are so very proud of them!  And we are sure that their parents are too!
The Christian Church of Chester generously provided the space for our dinner and dance.  Students were asked to dress their best for this special occasion, and they definitely did so.  Best Dressed Awards were given to Emily Harris, Kayla Lawson, Khalil Brown, and Jaydon Bantum for their sophisticated ensembles.
We were served a delicious meal by Tamu Garrett, including baked ziti, chicken Alfredo, salad, and garlic bread. We also had a dessert buffet with various kinds of brownies, cakes, and cheesecakes. Not a slice was left!
We also had a live presentation by Clyde Evans and the Chosen Dance Company, explaining the history of Hip Hop Dance and demonstrating through a number of incredible performances by the group. Our RISE students were asked to demonstrate some of their own moves, from current Hip Hop Dance.  Our RISErs stole the show!
Clyde also performed as DJ for the rest of the night, and got everyone on the dance floor together.  It was awesome to see our students dancing side by side, with the professionals from Chosen Dance.  What an amazing opportunity for our children, and for the Chosen Dance team to learn more about Chester from it's "RISING" stars.
This event was such a success, we are planning an End-of-Year Social for both Voice and Advocacy classes in April- Escape Rooms Challenges!  These trips will certainly put their acquired problem solving and team building skills to the test. While they make it out before the 1 hour alarm?  Stay tuned….
---