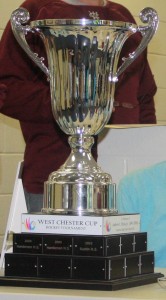 Henderson High School, East High School, Rustin High School and Conestoga High School competed against eachother to try to win the Hicksie Cup in the Andrew L. Hicks, Jr. Memorial Ice Hockey Tournament.  The battle began on Monday night, October 3rd at 6:30pm at Ice Line in West Chester with Henderson leading off against Conestoga High School.  Henderson won that exciting and high-scoring game 7-5.  The second match set Rustin against East and Rustin got the better of them, but just barely with a score of 4-3.
Week 2 placed the two winners from Week 1, Henderson and Rustin against each other for the Championship.  Both teams played hard, but Rustin was able to squeak by with a 6-5 victory.  The consolation game, East against Conestoga, went into overtime, but resulted in a win for East, 4-3.
R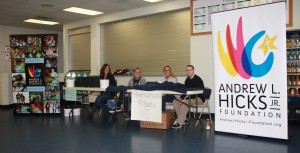 ustin High School has now won the Hicksie Cup two years in a row.  The hockey team will be honored with the Hicksie Cup on display at Rustin all year, until the teams come back next year to duke it out.  We're expecting to grow the Tournament next year to include four additional teams!  We are currently planning for a two week tournament with a Monday and Thursday schedule.  Stay tuned to see which clubs will be included.
P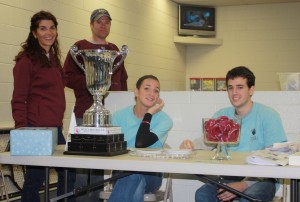 roceeds from the Tournament will benefit the Learn-To-Skate event sponsored by the Andrew L. Hicks, Jr. Foundation this coming winter.  The Foundation will be bringing 75 children from Chester up to Ice Line and pairing them each with a local hockey player who will teach them how to ice skate.  The pair will enjoy pizza, drinks and some cake together as well.  We hope to include skaters from the four hockey clubs that participated in this year's tournament in the Learn-To-Skate event, just like we did last year.  It is a fantastic way to begin a friendship and the Chester children really look forward to the chance to get a big brother or sister teach them how to ice skate!
To see photos from last year's event, please click here.
Special thanks:
Henderson Ice Hockey
Conestoga Ice Hockey
Rustin Ice Hockey
East Ice Hockey
Ice Line
Tuttle Marketing