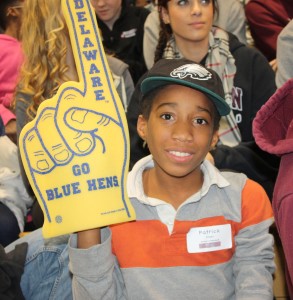 The National Association of Basketball Coaches Wives invited the Warrior Guides to the University of Delaware on Saturday, January 19th.  The organization coordinates the donation of a block of seats during a home game to underprivileged children in their community during Heels and Hoops Week.  The Andrew L. Hicks, Jr. Foundation is so grateful for their generous donation of 220 tickets to the men's basketball game against Northeastern University.  Michelle Ross, Membership Director for NABC Wives also coordinated the gift of free lunch to all participants (Warrior Guides, Braves and adult volunteers).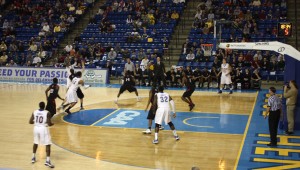 The Blue Hens played a very exciting game, especially as they rallied a very spirited comeback late in the second half of the game, but did fall short and lost 74-70 to Northeastern, who leads the Colonial Athletic Association league.  The loss didn't upset the Braves too much as they focused on the excitement of being on a college campus with their favorite high school students.  The pairs were great fans, applauding the home team's every point and getting on their feet during the moments of the comeback attempt!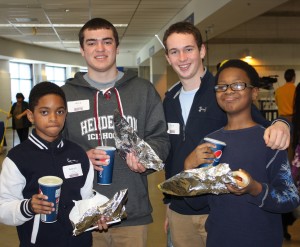 After a hot dog and soda, the entire group was treated to smooth and creamy homemade ice cream from University of Delaware's creamery.  Flavors included chocolate, vanilla, Mint N' Cookies and Raspberry Cheesecake.  Every spoonful was delicious and completely enjoyed by the crowd!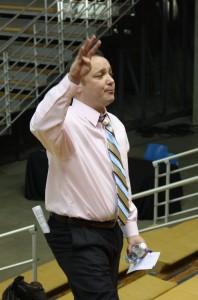 As a special treat, Delaware's Assistant Coach, Jeff Rafferty, gave an inspirational talk to the kids after the game.  He spoke of his willingness to be persistent in an effort to get his first job out of college, and further, to work for free, proving himself to keep the job.  The kids were captivated by his story.  His wife, Whitney Rafferty, even spoke about their commitment to sports and how much athletics and the game of basketball have impacted their lives.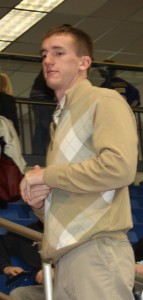 Tim Donnelly, senior quarterback for the University of Delaware's football team was a surprise speaker for the group.  He happened to be working the game as a communications intern, and took time to encourage the kids in our group to work hard, study hard, stay in school and get good grades.  He also humored the group with a Q & A session afterwards.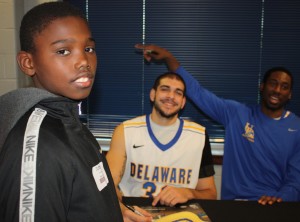 Finally, after a post-game talk and a few minutes in the locker room the entire basketball team sat at long tables and personally autographed large posters for every one of the Warrior Guides and Braves.  It was a fantastic and incredibly inspirational day that everyone will remember for a long time.
Special thanks:
Monte and Michelle Ross
Jeff and Whitney Rafferty
National Association of Basketball Wives
University of Delaware Basketball Concessions
Krapf Bus Company