"This is how we know what love is: Jesus Christ laid down his life for us. And we ought to lay down our lives for our brothers and sisters.  If anyone has material possessions and sees a brother or sister in need but has no pity on them, how can the love of God be in that person?  Dear children, let us not love with words or speech but with actions and in truth."
1 John 3: 16-18
OUR MISSION:  The Andrew L. Hicks, Jr. Foundation aims to honor Andrew's life and demonstrate the love of Christ to the youth of Chester, PA by identifying and fulfilling service opportunities with the involvement of Henderson High School students and the West Chester, PA community.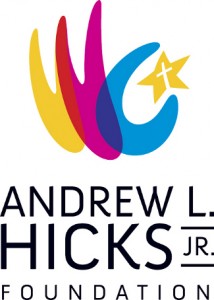 You might notice that our logo is the "WC" imitating the hand gesture used to represent Andrew's home town of West Chester. Inside the curve of the "C" is a star with a cross inscribed, symbolizing the light of Christ that we hope to bring to the City of Chester and the youth we serve.
The picture below was taken just the day before Andrew fell.  He was in San Francisco, CA on a family vacation.  Alcatraz is in the background and Andrew was making the typical "WC" hand gesture, reminding us how much he loved his home town.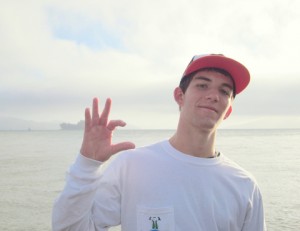 OUR PROGRAMS:  The Foundation currently focuses on three types of programming:  "Open" events, Warrior Guides and RISE.  Our Open Events are open to any Chester child who is the appropriate age for that event and any West Chester area high school student who would like to volunteer.  These events are meant to expose both sets of students to the Foundation and to give them a chance to decide if they would like to become more involved.  No further commitment is required besides just attending that one event.  These open events include:  the Fall Carnival, the Christmas Toy Store, Learn-To-Skate, Open Bowl, the Chester All-Star Track Meet and others.  One of our greatest open events is Camp Paradise which brings 102 Chester children to NorthBay in North East, MD for 5 days/4 nights with 39 high school Counselors and 13 adult Chaperones.  The group experiences all kinds of adventure activities such as high and low ropes courses, zip lining, a 3-man adventure swing, hiking, swimming, kayaking, canoeing, and rock wall climbing.  They also enjoy all that a camp along the North East River has to offer including acres of woods, fields, wetlands and of course, the Chesapeake Bay!  All of this adventure and education takes place while developing friendships and working on the ideals of Community, Hope, Responsibility, Self-Efficacy and Temperament.
Warrior Guides is the next level of commitment.  This program pairs one Chester 5th or 6th grader with one Henderson High School student for a full year of mentoring/friendship.  The events are scheduled once per month and the children are committed to attending the events together.  This program is not a tutoring or educational program.  It is strictly designed for fellowship and to provide safe and consistent friendship between the Chester elementary school student and the Henderson High School student.  They grow close in the first year and have the opportunity to continue in the program together for a second year.
After a student ages out of Warrior Guides, they may continue in RISE, which is specifically designed for the teens in Chester.  This leadership development program has a four year curriculum and is geared for 7th, 8th, 9th and 10th grade Chester students.  RISE stands for Responsibility, Integrity, Service and Excellence and these character traits are instilled through weekly meetings, cultural events, summits, retreats and a full week of camp in the summer.  This program is taught by Marvin Payne, our RISE Coordinator,  and supported by college Small Group Leaders from Widener, Delaware County Community College, Neumann, Temple and Cheyney Universities.
The Foundation is also in the process of developing a new program for Chester 11th and 12th graders which we hope to release next year, called LAUNCH. LAUNCH will prepare Chester students on the verge of high school graduation for both careers and college. This program will consist of every-other week workshops taught by professionals on a variety of topics that will highlight life skills and equip the students to be ready to enthusiastically advance their lives towards further education or productivity and income generation.