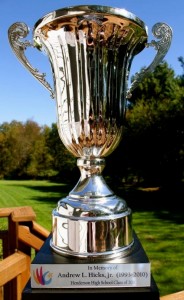 The Andrew L. Hicks, Jr. Memorial Ice Hockey Tournament, affectionately called "The Hicksie Cup", includes 8 teams and four evenings of hockey.  The tournament will take place on Friday, September 23rd, Monday, September 26th, Friday, September 30th and Monday night, October 3rd at Ice Line in West Chester. Ice Hockey teams from Henderson, West Chester East, Rustin, Downingtown East, Downingtown West, Unionville, Great Valley  and Conestoga will compete over the two weeks to try to win the prize. The winner gains the privilege of proudly displaying the silver cup in their school's trophy case for the full year until next year's show down.
This event is a fund-raiser and also intended to serve the ice hockey community that Andrew loved. Our hope is that the young men who participate in the Hicksie Cup will be inspired to come out to a Foundation event and invest some of their time and talent in a child from the City of Chester, PA. The goal of the Hicksie Cup is to expose the mission of the Foundation to the ice hockey players from the West Chester area and to get them excited about volunteerism.
The schedule for Friday, September, 23rd is as follows:
Game 1:  Rink 1 at 6:30pm
Rustin vs. West Chester East
Game 2:  Rink 3 at 7:00pm
Downingtown East vs. Unionville
Game 3: Rink 1 at 8:15pm
Henderson vs. Conestoga
Game 4: Rink 3 at 8:45pm
Downingtown West vs. Great Valley
Please see Monday, September 26th on our calendar for games 5-8.