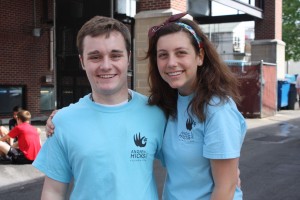 Hicks' 3-Way Relay was a huge success this year.  The weather was beautiful and so many friends came out to support the Foundation's effort to raise money for Camp Paradise this summer.  The Relay was held on Saturday, April 21st at 10:30 a.m. and began at Landmark Americana on the corner of Gay Street and Darlington in the Borough of West Chester.  Connor Ferrara and Molly Monaghan were the two seniors who led this event as their senior project.
Participants had the option of walking 1 mile, running a 5K, running a 10K or grabbing two friends and running a relay race together.  The first runner completed 1.05 miles; the second ran 2.05 miles and the third racer finished it off with a 3.1 mile run; compiling a 10K all together!  The race was routed through the beautiful Borough of West Chester.  Delicious food, all catered by Landmark Americana was waiting for all of the participants back at the restaurant.
Landmark Americana also hosted a wonderful Benefit Night for the Andrew L. Hicks, Jr. Foundation on Wednesday, April 18th.  They shared 25% of everyone's bill with the Foundation totaling $702.99.  Combined with the financial results of the race, the Foundation has earned $7,400 towards Camp Paradise.  Only $10,100 to go!
We are very grateful for the support of the community and our sponsors.  We couldn't be hosting Camp Paradise this summer without your participation.  For more information about Camp Paradise, please click here.  
For 5K Race Results, please click here.  
For 10K Race Results, please click here.  
For 3-Man Relay Team Results, please click here. 
Special Thanks:
Landmark Americana
Kimberton Whole Foods
Land Services USA
Tripoint Properties
Tuttle Marketing
Stillman Volvo
America's National Teenager, Miss Courtney Baxter
The Running Place
US Packaging and Shipping Supplies
Nathan Human Propulsion Laboratories
Pepsi
Fulton Bank
Allstate Insurance, Lisa Wicka
Young's Garage
Chester County Running Store