"This is how we know what love is: Jesus Christ laid down his life for us. And we ought to lay down our lives for our brothers and sisters.  If anyone has material possessions and sees a brother or sister in need but has no pity on them, how can the love of God be in that person?  Dear children, let us not love with words or speech but with actions and in truth." - 1 John 3: 16-18
The Andrew L. Hicks, Jr. Foundation aims to honor Andrew's life and demonstrate the love of Christ to the youth of Chester by identifying and fulfilling service opportunities with the involvement of Henderson High School students and the local community.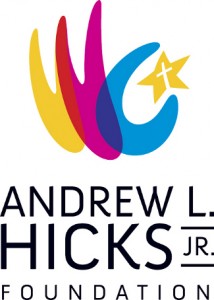 You might notice that our logo is the "WC" imitating the hand gesture used to represent Andrew's home town of West Chester. Inside the curve of the "C" is a star with a cross inscribed, symbolizing the light of Christ that we hope to bring to the City of Chester and the youth we serve.
The picture below was taken just the day before Andrew fell.  He was in San Francisco, CA on a family vacation.  Alcatraz is in the background and Andrew was making the typical "WC" hand gesture, reminding us how much he loved his home town.