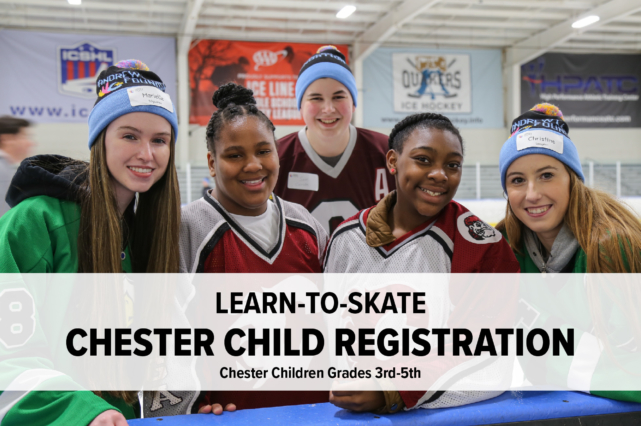 Learn-to-Skate: Chester Child Registration
Calling all Chester 3rd-5th graders!
Join us for an afternoon of learning how to ice skate on Sunday, April 22 from 3:30pm – 7:30pm.
We will bus your child to Ice Line in West Chester, PA to be paired with an ice hockey player from the West Chester area, for a one-on-one ice skating lesson. A catered dinner, with dessert, will be provided.
Only the first 100 children to register, will be accepted to participate!  If you do not receive a confirmation email, your registration did not go through. Please contact: Niki Goodson- niki@alhjr.org.
Transportation
Bus Arrives to Chester High- 3:30pm
Bus Leaves Chester High- 3:45pm
Bus Returns to Chester High- 7:30pm
Attendance Policy:
1. Anyone who registers is expected to attend. If you cannot attend, notify us at least 1 day before the event. 
2. Anyone who does not cancel, and is a "no-show" will not be permitted to register for another Open Event. We lose money for busing and food for "No-Shows", and cannot fill these spots with other children last minute. 
Safety Policy:
1. Any child with special needs (physical or behavioral) must have a parent ride the bus and attend the event to support their needs. Parents must also have Child Abuse and Criminal History Clearances to attend. Note your child's needs and your participation in the comment box. 
2. Children must meet the registration age limits, to safely participate in activities.
3. Parents are not permitted to drive separately, to be with their child at the event. Unfamiliar adults create confusion for chaperones, and we must guarantee that all parents present at an event have clearances. 
4. Any parent who fails to follow either of the above Safety Policies will not be permitted to register for another event with the Andrew L. Hicks, Jr. Foundation.
Check out pictures from last years event.

Any questions email Niki@ALHjr.org
---